'McGruff the Crime Dog' gets 16 years for 1K pot plants, grenade launcher
Police seized 1K pot plants as well as 27 weapons, including grenade launchers, sawed-off shotguns, rifles and 9,000 rounds of ammo from former 'McGruff' actor
---
By Dane Schiller
Houston Chronicle
GALVESTON, Texas — John R. Morales might have known better than to speed through Galveston at 3 a.m. with diagrams of two indoor pot-growing operations sitting on the front seat of his Infinity and a load of pot seedlings stashed in the trunk.
After all, he had previously been to federal prison on weapons charges and in years prior had worked as a McGruff the Crime Dog.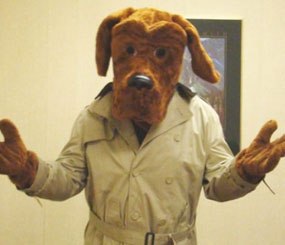 The diagrams on a clipboard proved to be road maps for authorities in Galveston and Houston who seized 1,000 marijuana plants as well as 27 weapons, including grenade launchers, sawed-off shotguns, military-style rifles and 9,000 rounds of ammunition, according to court records.
U.S. District Judge Vanessa Gilmore on Monday sentenced Morales to 16 years in prison after the 41-year-old pleaded guilty last year to drug and weapons charges.
Gilmore seemed to have little sympathy for Morales, who previously was sentenced to two years in prison for an illegal silencer and a homemade bomb.
Before being sent back to prison, Morales told the judge he was a humble, nonviolent person who got into the dope business to help his family, including a mother with leukemia and a sister with cancer.
"Everything I read about you makes you seem like a scary person — guns and bomb and hand grenades," the judge said, as she looked up from a sealed report on his life and crimes.
Morales' downfall came in September 2011, when a Galveston police officer with a drug-sniffing dog pulled him over for driving 50 mph in a 35 mph zone.
The odor of pot plants in his trunk was unmistakable, according to police, who teamed up with the U.S. Bureau of Alcohol, Tobacco, Firearms and Explosives to further the investigation.
"The whole case started out, and was successful, because of the efforts of police," said Kirk Tinker, a supervisory special agent with the ATF.
Authorities are still investigating how Morales got the firearms, which he was forbidden from having due to his criminal record.
"They will usually either get stolen weapons, or have somebody else get them for them," Tinker said.
Defense attorney Ken Fesler II portrayed Morales as a man with tremendous potential who got into the drug business to support a gravely ill mother and sister, as well as friends who have fallen on hard times.
"He is a very, very smart, intellectual guy and a caring individual," Fesler said. "He is not as scary as the judge thought."
Fesler said when Morales was a younger man that he had a 4.0 GPA at Houston Community College and was accepted to Penn State University. Morales had even worked as McGruff the Crime Dog for the now defunct Harris County Sheriff's Association, according to Fesler.
The Houston college said it did not have Morales' permission to release his grades or the dates he studied there. The sheriff's association no longer exists, but Fessler said Morales was involved there from 1997 to 2001.
Before he was sentenced, Morales sought to explain himself to the judge.
"I have admitted to my guilt and my actions, whatever they were, I never really benefited," he said. "I have spent most of my life trying to help other people."
He was prosecuted by Assistant U.S. Attorney Michael B. Kusin.
Copyright 2014 the Houston Chronicle
McClatchy-Tribune News Service