Report: Jared Fogle beaten, bloodied in Colo. prison brawl
Ex-Subway pitchman Jared Fogle was brutally beaten in an attack by a fellow inmate
---
By Police1 Staff
JEFFERSON COUNTY, Colo. — Ex-Subway pitchman Jared Fogle was brutally beaten in an attack by a fellow inmate, according to a report from TMZ.
Fogle, who is serving 15 years and eight months in prison for possession and distribution of child pornography and traveling across state lines for commercial sex with a minor, was pushed to the ground and took a barrage of punches to the face in the January attack.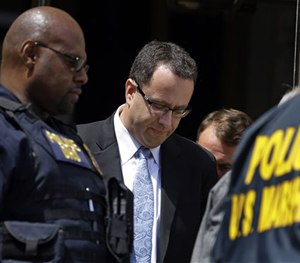 60-year-old Steven Nigg, who is serving time for a weapons charge, reportedly left Fogle swollen and with a broken nose.
In an interview with Nigg's nephew, Jimmy Nigg, AZ Central reported the attack stemmed from Fogle's use of his celebrity status for special treatment.
"He [Steven] felt like it wasn't fair," Jimmy told AZ Central. "He [Fogle] gets to order any food he wants, he can use his money to do things. This guy is coming and prancing in like he can do anything he wants."
Fogle and Nigg are serving their sentences at the Federal Correctional Institution, Englewood near Denver.