Biden to pick Tucson police chief to lead Customs and Border Protection
Officials cited Chris Magnus' role as chief in a "diverse city close to the U.S.-Mexican border"
---
By Curt Prendergast
The Arizona Daily Star, Tucson
WASHINGTON — President Biden plans to nominate Tucson Police Department Chief Chris Magnus to head Customs and Border Protection.
Administration officials cited Magnus' role as police chief in a "diverse city close to the U.S.-Mexican border," according to an announcement from the White House Monday morning.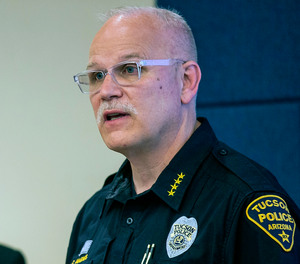 In Tucson, "Magnus implemented de-escalation training, sentinel event review processes, and programs to promote officer health and wellness. Because of Tucson's proximity to the border, he has extensive experience in addressing immigration issues," according to the White House.
CBP oversees the Border Patrol and the legal ports of entry, such as those in Nogales and Douglas. CBP has a budget of more than $15 billion and over 60,000 employees. The commissioner of CBP must be confirmed by the Senate.
"Mr. Biden was compelled to choose him because of those efforts to reform departments, as well as his recent work policing a city close to the U.S.- Mexico border," the New York times wrote, citing a White House official.
Tucson Mayor Regina Romero congratulated Magnus on his nomination.
"During his time in Tucson and throughout his career, Chief Magnus has developed a national reputation for his sensible, inclusive approach to policing that has always centered around community building," Romero said in a news release.
"Chief Magnus has always understood the importance of distinguishing the role of local law enforcement from federal immigration enforcement and how critical this is to protecting community trust," Romero said. "He has gained valuable experience serving as Police Chief of a major city here in the Borderlands."
Magnus, a registered Democrat, has been TPD chief since 2016. He previously served as police chief in Richmond, California, across the bay from San Francisco.
If confirmed, Magnus would take over for Troy Miller, who has been the senior official performing the duties of CBP commissioner under Biden. Miller started his career at CBP in 1993 and previously served as director of CBP's New York Field Office and executive director of CBP's main anti-terrorism organization, the National Targeting Center.
Under the Trump administration, Magnus pushed back against some of the administration's immigration policies.
In an op-ed Magnus wrote for the New York Times in December 2017, he objected to former Attorney General Jeff Sessions' attempt to withhold federal funding from local jurisdictions that did not agree with the administration's approach to immigration.
"The message from Washington is that cities need to refocus on 'law and order.' Yet the harsh anti-immigrant rhetoric and Mr. Sessions's reckless policies ignore a basic reality known by most good cops and prosecutors: If people are afraid of the police, if they fear they may become separated from their families or harshly interrogated based on their immigration status, they won't report crimes or come forward as witnesses," Magnus wrote.
In January 2020, TPD opted out of Operation Stonegarden, a federal program that provides funds to local law enforcement for overtime and equipment associated with border-related activities. TPD had received those funds for more than a decade, including about $600,000 at the time TPD opted out of the program.
The program ran counter to TPD's mission "and the expectation of the community we serve," TPD officials said at the time. The move by TPD came after a dispute with federal officials about using some of the Operation Stonegarden funds to cover costs for providing humanitarian aid to thousands of asylum seekers who were temporarily housed at Tucson shelters.
"As an established immigrant-welcoming community and in response to SB-1070, Mayor & Council directed a series of amendments to TPD's General Orders that protect victims and witnesses of crimes from arbitrary immigration status inquires, prohibit stops and detentions based on 'suspicions' of unlawful status, and other actions aimed at protecting the rights of our immigrant communities," Romero said.
"I am grateful for the Chief's leadership in implementing these reforms, as well as other efforts including streamlining TPD's U-visa process and the creation of a new refugee liaison program," Romero said, referencing U-visas issued to victims of crime who help law enforcement.
Biden administration officials said Magnus built a reputation as a progressive leader.
"His lengthy career in public safety includes coming up through the ranks of the Lansing, Michigan Police Department, and serving as police chief in the cities of Fargo, North Dakota, Richmond, California, and Tucson, Arizona," according to the announcement from the White House.
"In each of these cities Magnus developed a reputation as a progressive police leader who focused on relationship-building between the police and community, implementing evidence-based best practices, promoting reform, and insisting on police accountability," the White House said.
"During his time in Richmond, Magnus played a key role in rebuilding community trust in law enforcement and dramatically reducing the number of shootings and homicides," the White House said.
"Magnus grew up in Lansing, Michigan, the son of an immigrant from Oslo, Norway. He received his bachelor's degree in Criminal Justice and his master's degree in Labor Relations from Michigan State University. Magnus attended the Harvard Kennedy School Senior Executives in State and Local Government program. He has been with his husband, Terrance Cheung, for 15 years," the White House said.
(c)2021 The Arizona Daily Star (Tucson, Ariz.)
McClatchy-Tribune News Service