1st woman chosen to lead RI State Police
Ann C. Assumpico is the 13th superintendent of the state police and also becomes the first woman to lead any police agency in RI
---
Associated Press
PROVIDENCE, R.I. — A woman will lead the Rhode Island State Police for the first time.
Ann Assumpico, a state police captain, was appointed colonel Thursday by Democratic Gov. Gina Raimondo. Assumpico becomes the 13th superintendent of the state police and also becomes the first woman to lead any police agency in Rhode Island. She succeeds Steven O'Donnell, who retired in September.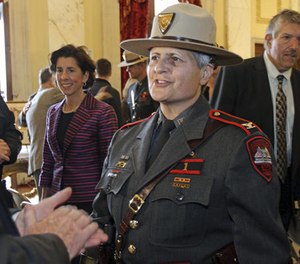 Raimondo also announced a plan for legislation to remove some of the responsibilities of the position and create a new cabinet-level position of director of public safety. The Department of Public Safety includes the state police, as well as the state fire marshal, capitol police, sheriffs and other agencies. Previously, the state police superintendent oversaw those agencies as Commissioner of the Department of Public Safety.
Assumpico was a member of O'Donnell's command staff and had overseen the Rhode Island State Police Training Academy and the Rhode Island Municipal Police Academy. She has spent nearly 40 years in law enforcement, 24 of those with the state police.
During a Statehouse ceremony to introduce her, Assumpico, 59, said she first decided at age 10 that she wanted to be a police officer.
"At that time there were not any female role models that could show me that this was possible," she said. "I had to dream that if I worked hard enough and never gave up, that times would change and I would get my chance."
She said the opportunity she has been given is her vision for the state police.
"We already have a stellar reputation, a storied tradition of excellence," she said. "Let's open more doors and build on our strengths."
Raimondo said Assumpico's promotion would act as a reminder that people who work hard can achieve great things.
"I knew I wanted someone who would understand the tradition and the culture of the Rhode Island State Police," Raimondo said. "But I also wanted a humble leader who would put service above self."
Assumpico previously was a correctional officer and patrol officer in Coventry.
Raimondo was under pressure to diversify at the top of the force. Charles Wilson, chairman of the National Association of Black Law Enforcement Officers, had called on her to make a wide search outside the state because of a "dismal lack of diversity" in Rhode Island police agencies.
Assumpico is white. Wilson said on Thursday that while he would have liked to have seen a person of color in the position, he was pleased to see Raimondo picked a woman.
"The final decision is one that, I believe, is going to have a dynamic and dramatic impact on not only the future operations of the state police, but the entire culture of law enforcement in the state of Rhode Island," he said. "I'm being told that she's someone who is open to considering change, and that can be a good thing."
He said he would continue to push for a broad search in the selection of a new director of public safety.
Raimondo's office said the appointment would take effect immediately, although she will serve as 'acting Colonel' until her official swearing in ceremony later this year.