A report card on Biden's first 100 days
The early days of the Biden presidency do not portend good times for American law enforcement
---
Back in December, Police1 forecasted what might happen during President Biden's first 100 days in office. Those days have come and gone. How did Joe Biden do on keeping his pledges, especially those that impact law enforcement?
Let's take a look at how President Biden is addressing the pandemic-driven moratorium on evictions, COVID-19 immunization, the opioid crisis and police reform.
What would you want President Biden to know about the current challenges facing law enforcement? Share your thoughts below.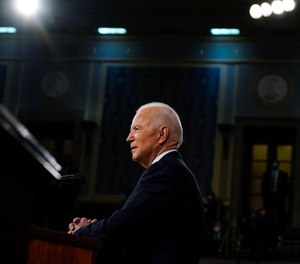 Evictions
One measure that was set to expire on March 31, 2021, was a moratorium on evictions. The COVID-19 pandemic has thrown millions of people out of work and left them unable to pay their rent or mortgages. Stimulus payments and extended unemployment insurance benefits helped, but still left a considerable gap in most people's finances.
The Centers for Disease Control (CDC) extended the ban on evictions to June 30, 2021. There are restrictions on who is eligible for protection from eviction. If two taxpayers are contributing to the household income, they must make less than $198,000 per year; singles have an upper limit of $99,000. They have to be able to show they have sought government assistance to pay their rent, have been disadvantaged because of the pandemic, and that they will likely become homeless if they are evicted to be eligible for the protection.
The CDC is managing this because of the public health consequences of having people lose their homes. People forced out due to eviction are likely to move in with others or be on the street. In either case, the affected parties are less able to maintain the social distancing and hygiene precautions that reduce COVID-19 infections.
The law enforcement implications for mass evictions are grave. Sheriffs, constables and marshal offices that enforce eviction orders can expect their business to skyrocket overnight, as many eviction cases have been pending for months. Some of those people will be desperate to hang on to whatever shelter they have and won't just walk out of their homes without a confrontation. Many of the people likely to be evicted are just getting by as it is. They won't have the funds necessary to move their household items into storage when the cops show up, and the entirety of their household goods can wind up sitting at the curb, waiting for the sanitation truck. Communities that are already plagued with homeless camps and the public health and public order problems they bring will see substantial increases in homeless populations.
[READ: How a California agency is shifting thousands of homeless calls from police to a new team]
The eviction can has been kicked down the road repeatedly, and can't be forestalled forever. Landlords who have tried to be understanding and accommodating are finding it difficult to make their mortgage payments without the revenue stream of rent payments. Everyone in the tenant-landlord dynamic is getting desperate and desperate people often don't act rationally. This situation has the potential to get massively ugly.
COVID-19 immunization
One of Biden's strategies has been to under-promise and over-deliver, reaching goals earlier than pledged. This was the case with COVID-19 vaccinations, where the President said he would have 100 million vaccine doses distributed before his first 100 days were up. He attained that goal around Day 58, but the rate of immunizations is unlikely to track as well in the days to come. Early on, polls indicated that as many as one-third of Americans would refuse to be vaccinated.
[READ: 3,300 officers respond to COVID vaccine poll]
When the COVID-19 vaccines first became available, certain high-risk populations were prioritized for eligibility. Medical workers, residents of long-term care facilities and other workers deemed essential went to the head of the line for immunization. Now, we have reached a point where most adults can obtain a vaccination (the vaccines have not yet been approved for children) if they want it, and a lot of people don't want it. Routine vaccination for many diseases such as polio, measles and diphtheria has been a bone of contention for years, with so-called "anti-vaxxers" claiming that vaccines cause children to become autistic or contain poisonous mercury compounds.
The anti-vaccination community shuns the COVID-19 immunization program, often citing a belief that the U.S. will develop "herd immunity" and supplant the need for the vaccine. Herd immunity is a real phenomenon, but it happens only after 50%-67% of the population has immunity to the targeted disease. The current trend of vaccinations will not overcome the level of resistance to COVID-19 infection, creating a situation where American doctors will be playing medical Whack-A-Mole indefinitely. There will be constant outbreaks of the virus, with a portion of the victims dying or experiencing permanent symptoms of fatigue, chest pain, and loss of the senses of smell or taste, among others.
The Biden campaign made no claims concerning overcoming objections to being vaccinated for COVID-19. There is no way to know how the new President will address these concerns and the problems they bring.
Opiate addiction and overdose
COVID-19 pushed news of opiate overdoses off of the front page, but the problem of opiate misuse remains, especially in rural communities with strapped public safety resources. Members of the 117th Congress have not introduced any major legislation to address this problem.
[READ: A new approach to opioid overdose cases]
One of the few opiate-related bills pending disposition is the Opioid Patients' Right to Know Act of 2021, which would fund state-level informational campaigns to alert citizens of the risks associated with opioid misuse. The bill was introduced in February 2021 and has not yet been aired in committee.
Police-centric bills in Congress
During the session of Congress that ended in January 2021, there were at least three bills introduced, all targeted at creating or increasing benefits for law enforcement officers:
All three of these bills failed to advance through the bureaucratic process that leads to them going to the President and being signed into law. Although their sponsors were all re-elected or carried over to the current 117th Congress, the bills have not been re-introduced.
[READ: A letter to the American public: Here's what real police reform looks like]
President Biden has so far orchestrated an ambitious legislative program. He has successfully rushed a new stimulus package through Congress, providing most taxpayers a $1,400 benefit. He recently announced plans for multi-trillion dollar programs for education, assistance in paying for health insurance, and rebuilding the country's crumbling infrastructure. These plans are all costly and depend on him being able to persuade Republicans in both the senate and house to increase taxes on corporations and the wealthy. The Democrats hold very slim majorities in both legislative bodies, insufficient to guarantee passage of these bills without some support from the GOP.
Biden's legislative agenda doesn't seem to address any new or expanded benefits for public safety officers, but he does have some clear intentions to compel police reform. He has been vocal in his support of H.R. 7120, the George Floyd Justice in Policing Act of 2020. The bill has six principal initiatives that directly impact law enforcement:
Lowers the standard for proving police misconduct in a federal prosecution from "willful" to "knowing" or "reckless."
Limits the qualified immunity defense in civil actions against law enforcement or correctional officers.
Allows the U.S. Dept. of Justice to subpoena records of state or local law enforcement agencies to investigate patterns or practices of discrimination.
Creates a National Police Misconduct Registry to track complaints and records of police misconduct.
Establishes a strategy to end racial profiling at all levels of government.
Requires law enforcement agencies to report instances of use of force, provide training on implicit bias and racial profiling, and requires officers to wear body cameras.
This bill has passed in the House of Representatives and has been read twice in the Senate. Passing the bill will require some support from Republican senators, but there doesn't seem to be the same level of resistance from the GOP as other Biden-sponsored initiatives have incurred. If the Senate approves the bill, it is nearly certain that Biden will sign it into law.
The early days of the Biden presidency do not portend good times for American law enforcement. With anti-police sentiment running strong, the federal government is doing more to impose constraints on policing and make it easier for citizens to complain about and secure civil judgments against law enforcement officers. With recruiting at an all-time low and many officers looking to retire or change careers, the future does not look bright for today's cops.
President Biden, here's what I want you to know about the current challenges facing law enforcement.