The first 100 days: What President Biden can do for law enforcement
While it is difficult to predict what changes are in store, you can be sure that change is coming
---
No matter which way you were leaning during the 2020 presidential election, you have to concede that the Biden administration is going to be as different from the Trump years as anything could be.
Although most changes of White House leadership in recent years have alternated political parties, the switch from Trump to Biden is ideologically radical. While it is difficult to predict what changes are in store, you can be sure that change is coming.
Following are some measures Biden can take in his first 100 days as president to make life a bit easier for America's beleaguered police.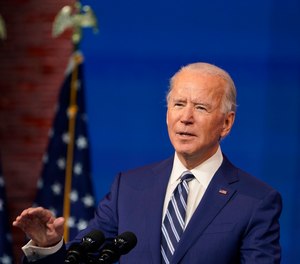 Evictions pending
The COVID-19 pandemic caused many businesses, especially in the service sectors, to shut down or drastically reduce volume. As many as 22 million people have lost their jobs altogether, and most of those were in professions that didn't pay well in the first place.
Congress approved and issued an economic stimulus package that delivered $1,200 to most taxpayers. A second stimulus package was proposed and advanced through the legislative process, but is likely to die completely once the 116th Congress ends its term on January 3, 2021.
Meanwhile, those displaced service workers have been steadily accumulating debt and are behind on rent and installment payments. More than 26 million Americans are going hungry. The Centers for Disease Control and Prevention (CDC) issued an order placing a moratorium on residential evictions during the pandemic, but that order expires on December 31, 2020. If the order is not renewed, sheriff and constable agencies throughout the U.S. will be called on to forcibly evict people from their homes in mid-winter, and all law enforcement will contend with a flood of newly homeless families and the social problems that follow.
President Biden can reduce some of the pressure on law enforcement by directing the CDC to extend the moratorium on evictions, and urging Congress to revive the stalled stimulus legislation so that the most vulnerable Americans can provide for basic human needs.
Vaccine priority
In November 2020, at least three pharmaceutical manufacturers announced they had developed a vaccine to prevent COVID-19 infections. Trials conducted during the development process indicated the vaccines were 90%-95% effective against the coronavirus. The efficacy of these vaccines and the pace of their development are remarkable, given that the flu shot we're all encouraged to get every fall is only about 40%-60% effective.
Distribution of the COVID-19 vaccine will be more challenging than other vaccines. The Pfizer vaccine has to be stored at -70° C (-90° F) to remain viable. Other vaccine candidates are more temperature-tolerant, but still require special freezers or to be packed in dry ice. In many cases, those wishing to be vaccinated will have to go to clinics where the vaccine can be stored at these low temperatures, rather than having vaccination centers set up at more convenient venues.
The government sets the rules on who gets the first distributions of the vaccine. Healthcare workers will have the highest priority, as they have the greatest risk of exposure to infected persons. Public safety officers should be in line close behind. Police, firefighters, paramedics and EMTs cannot control who they encounter in the field, and often do not have adequate personal protective gear. The new president should make it clear that the country's first responders are close to the front of the line for vaccinations.
COVID-19 benefits
The pandemic has affected everyone, but few groups took as big a hit as the country's law enforcement officers. As of October 2020, over 100 cops died after being infected with the coronavirus. Only suicide has claimed the lives of more police officers in 2020.
The federal Public Safety Officers Benefits (PSOB) Program provides monetary payouts to the families of police, fire service, or emergency medical service personnel killed in the line of duty. PSOB policy is to award benefits if "it is more likely than not" that a public safety officer died from a COVID-19 infection contracted in the line of duty. Many states have a presumption in their laws that determines any active-duty officer who develops heart or pulmonary disease is so afflicted because of their employment, and is eligible for disability or death benefits, just as if they had been killed by criminal action.
Representative Jerrold Nadler (D-New York) introduced the Public Safety Officer Pandemic Response Act of 2020 in April. The bill mandated death and disability benefits for public safety employees who contracted COVID-19. The bill passed in the House and was sent to the Senate, but it was not advanced there.
President Biden can ask Rep. Nadler and his colleagues to try again, and get this bill codified into law.
PTSD coverage
The issue of suicide among law enforcement officers has been a closely held secret up until the last few years when we're all confronting and acknowledging it. While we're aware that suicide claims more police lives than any other cause (sometimes more than all other causes put together), survivor benefits for families of officers who take their own lives have been absent. In July 2020 Representative David Trone (D-Maryland) introduced a bill to create the Public Safety Officer Support Act of 2020, which would have made the families of officers dying as a result of post-traumatic stress disorder and related causes eligible for death benefits, just as if they had died at the hands of criminals.
Unfortunately, the bill has not made it out of the Judiciary Committee, and will likely die at the end of the current congressional session in January 2021. Representative Trone was re-elected in November 2020. President Biden should urge Rep. Trone and other members of the House to resubmit and promote this bill so that families of PTSD-afflicted officers can receive disability and death benefits.
Law enforcement funding
Civil unrest tied to high-profile police use of force incidents has led to many local and state governments being urged to cut money from police budgets to benefit other programs such as replacing patrol officers with social workers to respond to mental health crisis calls.
In June 2020, Senator Kelly Loeffler (R-Georgia) introduced the Promoting Public Safety and Supporting Law Enforcement Act of 2020, which would have required the U.S. Secretary of Transportation to withhold federal funds "from State and local governments that defund or otherwise reduce funding for certain law enforcement entities without a clear budgetary reason." As with the PTSD bill, this one also did not make it out of committee.
States depend heavily on federal funding for highway maintenance and construction, and the strategy of holding highway funding hostage to promote a federal mandate has worked well before. States quickly brought their laws on maximum speed limits and illegal per se alcohol levels in DUI statutes into conformance when those highway monies were threatened. Senator Loeffler's continued senatorial service will be determined in January 2021 after a runoff election against a Democratic opponent. Whether Loeffler or her successor occupies one of Georgia's two seats in the Senate, the new president should urge this legislation to be advanced into law.
Opioid epidemic
Although the nation's preoccupation with the coronavirus pandemic pushed it out of the headlines, the opioid addiction and overdose epidemic remains a significant public health emergency. Lethal overdoses of opioid drugs, especially those brought about by fentanyl and its analogs, have continued to rise and add to the burden of the country's public safety officers and medical infrastructure. From 1999 to 2018, more than 232,000 Americans died of opioid overdoses.
Purdue Pharma, the company that developed and sold Oxycontin, has been at the center of this disaster. U.S. Department of Justice investigations have shown that Purdue aggressively marketed Oxycontin and provided monetary incentives to prescribers, even after they were aware of the impact illicit use of their drug was having on the country. The Sackler family that owns Purdue Pharma has agreed to pay $8.3 billion in a settlement, and the company has filed for bankruptcy. The settlement provides no criminal consequences for the Sacklers, who have structured the bankruptcy and settlement so that they will keep most of their personal fortunes, estimated at $10-$13 billion. The Sacklers will pay only a small fraction of the money they made from the sale of Oxycontin.
While the settlement sets out Purdue Pharma's financial liability, the federal government will be at the end of the line of creditors, and there may not be much left by the time they have been paid. President Biden can pressure the U.S. Dept. of Justice to pursue the Sacklers and try to recover some of that ill-gained fortune, which can then be used to fund rehabilitation and emergency treatment programs.
President-elect Joe Biden has some heavy work ahead. He must immediately address a country crippled by multiple health crises and find a way to manage a budget deficit that has grown by more than three times since he and President Obama left office in 2017. We can hope for him to not forget about the men and women on the front lines at home, those trying to protect and serve their communities.
NEXT: Will a Biden presidency breathe new life into community policing?