A new approach to opioid overdose cases
Collaborating with healthcare providers while getting tough on drug dealers is helping save lives in Seminole County, Florida
---
While more recent public health problems have stolen the focus, there is still a major epidemic of opioid overdoses in the United States. The coronavirus pandemic has only aggravated the opioid abuse problem, spiking the number of overdoses as compared to previous years.
In the year that ended in May 2020, over 81,000 people in the United States died from an overdose of an opioid drug. That represents the largest number of overdose deaths in U.S. history, and the first time a public health issue has decreased the expected average life span of Americans.
Two and a half years ago in Florida, 14 people were dying from opioid overdoses every day. Dennis Lemma, the sheriff of Seminole County, Florida, detailed the effect of the pandemic on the opioid abuse situation.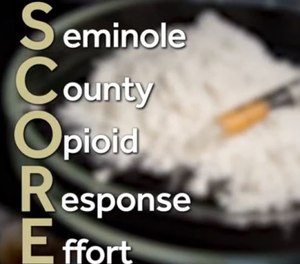 "A big part of the challenge is the unintended consequences of COVID-19, which has brought with it situations of despair. And the numbers are skyrocketing across the country with people who are dependent on whatever substance of choice they turn to in the first place. We have seen about a 60% increase in overdoses throughout the central Florida region and I suspect throughout the state."
Breaking the cycle
Prior to the COVID-19 pandemic, Florida Governor Ron DeSantis established an opioid overdose task force, chaired by Florida Attorney General Ashley Moody. Sheriff Lemma was named as the vice-chair.
"We learned that the number one predictor on whether or not somebody would overdose and die is whether or not they've overdosed and survived," Sheriff Lemma told Police1. "What that means is a lot of people who passed out, law enforcement has revived them with the use of Narcan. And when they go to the hospital, they're stabilized, they're triaged and more often than not, were released back into the same environment that they overdosed in the first place. This Increases their likelihood of overdosing and dying within the first 12 months by over 800%."
Deputies equipped with naloxone were saving lives, only to have the survivors get back on the same path that caused them to overdose in the first place. Sheriff Lemma introduced a program to try and break that cycle, called the Seminole County Collaborative Opioid Response Effort, or SCORE.
Providing navigation to resources
As part of the SCORE program, the Seminole County Sheriff's Office (SCSO) partnered with Advent Health, one of the largest providers of healthcare in Florida, to have "navigators" stationed in the emergency rooms in Seminole County. The navigators connect with overdose victims to make them aware of available detox and recovery programs, including the recently opened Hope and Healing Center, and to encourage them to take advantage of the resources, rather than return to the situation that engendered the overdose.
Redefining classification of overdose incidents
Another aspect of the SCORE program was to redefine the way overdose incidents were classified and handled.
"If somebody overdoses and dies in many jurisdictions across the country, those cases are being treated as accidental overdose deaths. We treat every one of them as a crime scene. You do nothing more than forensically examine the cell phone of the decedent. One of the top five most frequently called numbers typically is the drug dealer," said Sheriff Lemma.
"So we've charged more drug dealers in Seminole County with first-degree murder for dealing deadly doses of narcotics, more than anywhere else in Florida. We have a strong legislative effort this year to tighten up the laws dealing with the prosecution of drug offenders. That was the first step in enforcing and making sure that the bad guys, the drug dealers, are held accountable to the fullest extent of the law."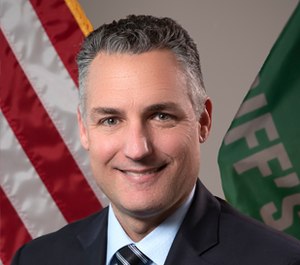 Facilitate recovery options
With the law enforcement aspect of the problem addressed, the Seminole County Sheriff's Office sought to further facilitate the recovery option for drug users. The sheriff's office had an unused building to contribute to the solution.
"We had a work release building that had 40 beds at one time that could be modified and renovated to accommodate a clinical environment," Sheriff Lemma told Police1. "The executives at Advent Health said, 'We will partner with you on this. We will cover all aspects of the clinical environment, and we will create a first of its kind partnership with a law enforcement agency and major healthcare provider to provide directly across from a correctional facility, this center that treats every person who is navigating their course and path towards recovery.' 
"It's a 30-bed residential environment when fully operational, and they are deploying all three forms of FDA-approved medicine to treat opioid use disorder. They're combining that with cognitive behavioral therapy. There is also outpatient assistance. It is a one-stop-shop for family counseling and family support. And the greatest part about this is nobody's turned away."
The Advent Health Hope & Healing Center is available to everyone, regardless of their health insurance situation. Funding has come from sometimes unexpected sources.
"It became so popular and so many people were so interested in it, executives from Walmart actually came down to my office and gave me a check for half a million dollars to help support this concept and have pledged to come back next year with another $250,000 gift to help sustain this," said Sheriff Lemma. "I also chair First Lady Casey DeSantis' drug abuse prevention panel under the Hope for Healing umbrella. They were able to sign off and get us $400,000 of startup funds through the legislature to get it up and running."
Sheriff Lemma emphasized the contribution from Advent Health, providing about $1.5 million per year for clinical support and services.
Costs always a concern
Costs are always a consideration to stand up a program, but with opioid addiction treatment, cost is a particular concern.
"One dose of Vivitrol, which reduces the craving for a drug, costs anywhere from $1,500 to $2,000," Sheriff Lemma said.
Another cost is naloxone, better known as Narcan, used by deputies to treat opioid overdoses in the field.
"Each one of the Narcan kits, more widely deployed as the nasal inhaler, ranges anywhere from $30 to $50 a dose. And you can imagine the cost associated with it. Between the sheriff's office and EMS, we deployed naloxone over 650 times last year here."
The naloxone was paid for by a grant of $11,250 from the Florida Department of Health Helping Emergency Responders Obtain Support (HEROS) program.
Jail inmate assistance
Jail inmates with opioid abuse problems are not shut out of the SCORE program. Sheriff Lemma described the options available in the county correctional facility.
"We've become one of the few facilities in the country that administers all three forms of FDA-approved medicine to treat opioid use disorder inside of our facility. We're doing methadone, buprenorphine and Vivitrol. And we feel like that that is a decision between a patient, an inmate and a clinical provider, the medical doctors that we employ here on staff.
"We do Medication-Assisted Treatment along with cognitive behavioral therapy, we have therapeutic canines that are inside the cells that the inmates, particularly female inmates, help train, and they help nurture. We know that there's a value to demonstrating those characteristics when we're trying to correct behavior. And this program has been so successful. In my nearly 30-year career, I've never seen a time where inmates will actually petition the judge to extend their sentences because for the first time in many years are getting clean and that's what's happening here."
Sheriff Lemma wanted to emphasize the way his agency approaches opioid overdose situations. Drug agents from the sheriff's office examine these accidental, unintended deaths, evaluating whether they are actually homicides.
"Every time somebody overdoses, there is a crime scene. There are federal laws and state laws that allow us leverage to do something. Forensically examine the phone of the decedent. This is not occurring in the overwhelming majority of jurisdictions, that you can walk yourself into finding the drug dealer within moments. Typically, there's that communication traffic and that drug dealer is typically dealing that same hot dose that others will experience a similar fate. But there's great potential and the DEA is willing to work with jurisdictions in this space."
For more information about the Seminole Collaborative Opioid Response Effort, contact Captain Sammy Gibson at SGibson@seminolesheriff.org.