Baltimore police commissioner punches gunman, helps make arrest
When a man struggling with 3 officers drew a gun, commissioner entered the fray, put his own gun to the man's head, punched him and caused him to release his weapon
---
By Juliet Linderman
Associated Press
BALTIMORE — When a man struggling with three Baltimore police detectives drew a loaded gun from his waistband, the city's police commissioner entered the fray, put his own gun to the suspect's head, punched him and caused him to release his weapon, according to an account in court records.
It happened May 16 as Police Commissioner Anthony Batts was riding in an unmarked car with the officers, Detective Ryan Diener wrote in charging papers that were filed against the suspect, 20-year-old Alante Moultrie.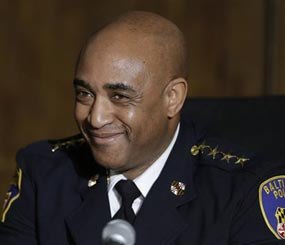 The detectives, who also included Sgt. Derek Loeffler and Antonio Hopson, stopped the car outside a deli and approached a group of six men standing nearby, Diener wrote. He did not give a reason for the stop.
After identifying himself, asking Moultrie's name and getting a mumbled response, Diener wrote that he noticed a bulge in Moultrie's waistline.
Diener patted the man down and discovered a "hard object that I immediately recognized to be a handgun," the report reads. Diener shouted "Gun!" several times to alert his fellow officers, and tried to grab the firearm. Moultrie then pushed Diener, prompting Hopson and Loeffler to run to the officer's aid, Diener wrote. As the three officers tried to detain Moultrie, the man was able to retrieve the gun from his waistband.
Batts approached the struggling officers, drew his own gun and "placed it against Mr. Moultrie's head," the report reads. When Moultrie refused to weaken his grip on the firearm, Batts punched the man in the face, causing Moultrie to release the weapon. It turned out to be a loaded .32-caliber handgun.
Police say they recovered six rounds in the gun's magazine, as well four bags of suspected cocaine and a 3-inch folding knife.
Moultrie was handcuffed and taken to Johns Hopkins for treatment for an unspecified injury. When he was interviewed later by detectives, police say Moultrie admitted possessing the handgun, which is a violation of probation stemming from a prior conviction. Moultrie is also being charged with drug possession, second-degree assault and resisting arrest.
Batts, who has been in law enforcement since 1982, once served as a street patrolman. He sometimes rides with his officers. The police department said he would not comment on the incident because the charges against Moultrie are still pending.
"The commissioner was leading from the front, and at the end of the day he's a police officer as well as the commissioner," said Baltimore Police spokesman Lt. Eric Kowalczyk. "He is as focused on getting guns off the street as the officers that he leads."
Copyright 2014 The Associated Press