Biden names Houston-area sheriff to lead ICE
Harris County Sheriff Ed Gonzalez has been tapped to serve as the nation's immigration enforcement chief
---
By Todd J. Gillman
The Dallas Morning News
WASHINGTON — President Joe Biden named Harris County Sheriff Ed Gonzalez – who lambasted Donald Trump over immigration – as the nation's immigration enforcement chief, a uniquely challenging assignment as he tries to unwind Trump-era policies while tamping down a crisis-level surge of unlawful migration at the border.
Homeland Security Secretary Alejandro Mayorkas called him a "strong choice" to serve as director of U.S. Immigration and Customs Enforcement.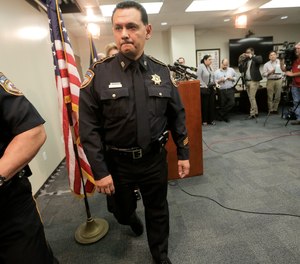 "With a distinguished career in law enforcement and public service, Sheriff Gonzalez is well-suited to lead ICE as the agency advances our public safety and homeland security mission," he said, calling on the Senate for swift confirmation "to this critical position."
In 2017, shortly after his election to run the nation's third biggest sheriff department, Gonzalez canceled Harris County's participation in a controversial ICE program that enlists local law enforcement to identify jail inmates eligible for deportation.
In July 2019, after Trump vowed that ICE would soon deport "millions of illegal aliens," Gonzalez declared that his department would not cooperate with roundups targeting immigrants whose biggest infraction was staying in the country after a visa expired, or crossing the border without permission.
"‪I do not support ICE raids that threaten to deport millions of undocumented immigrants, the vast majority of whom do not represent a threat to the U.S.," Gonzalez wrote on Twitter. "The focus should always be on clear & immediate safety threats. Not others who are not threats."
The Houston native was one of two Texans tapped for a high-profile post on Tuesday.
For Air Force undersecretary, the No. 2 post, Biden picked Gina Ortiz Jones, who ran two close congressional races in West Texas.
Jones served as a captain in the Air Force during the "don't ask, don't tell" era, when gay and lesbian personnel like her were tolerated but risked discharge if they came out, and gay rights activists lauded Biden for promoting inclusion at the highest levels.
"We are beyond thrilled," said Jennifer Dane, executive director of the Modern Military Association of America, which advocates for LGBTQ personnel and veterans. "She represents diverse intersections of minority groups and her visibility at the top echelons of leadership is exactly what our communities need. ... She knows firsthand what damaging effects discriminatory policies like 'don't ask, don't tell' have on the health and well-being of the force."
Dallas' Sarah Saldana, a former U.S. attorney, ran ICE for the last two years of the Obama administration, guiding the agency to prioritize detention and deportation of violent criminals.
In the Trump era, ICE became far more aggressive. A zero tolerance policy meant charging nearly every adult who crossed the border illegally with a crime, triggering family separations for those traveling with children – a policy that Trump boasted would itself deter future migration.
Biden has rejected calls from some progressives to dismantle or drastically overhaul ICE, while also vowing to refocus its efforts.
On Tuesday, for instance, Mayorkas issued guidance limiting arrest of immigrants at courthouses, saying "the expansion of civil immigration arrests at courthouses during the prior administration had a chilling effect on individuals' willingness to come to court or work cooperatively with law enforcement."
"For too long our approach to immigration enforcement has only driven immigrants further into the shadows," said Ali Noorani, president and CEO of the National Immigration Forum.
He called Gonzalez "an excellent choice" who is sure to bring "a risk-based, more humane, measured approach" that prioritizes threats to public safety rather. He cited Gonzalez' support for Dreamers in Houston — migrants brought into the country illegally as children — as an "encouraging sign that he would run ICE with both practicality and compassion."
Immigration hard-liners were far less pleased at the nomination and the direction it shows Biden is taking away from Trump's.
"As part of his unrelenting assault on the integrity of our immigration enforcement system, President Biden has chosen a staunch opponent of interior immigration enforcement" to lead ICE, said Dan Stein, president of the Federation for American Immigration Reform.
Gonzalez's "contempt for enforcement of immigration laws" mirrors the lax approach to border control represented by Chris Magnus, the police chief in Tucson, Arizona, chosen by Biden to run Customs and Border Protection, he said, and "neither is fit for the important jobs for which they are being nominated."
"We are facing a full-blown border crisis and sharp increases in violent crime all across the country. ... After a hundred days of deliberate sabotage of border enforcement, it seems the president is now attacking interior immigration enforcement with his ICE pick," Stein said.
Gonzalez co-chairs a group called the Law Enforcement Immigration Task Force. Fellow co-chairs voiced their support, among them Miami Police Chief Art Acevedo, another Trump critic who until recently was Houston's police chief.
"Sheriff Gonzalez's track record is an encouraging indication of how he would run ICE — with a balance of security and compassion that makes everyone safer. We encourage the Senate to quickly confirm him," Acevedo and the others said.
Gonzalez was elected in 2016 and reelected last fall to run Texas' largest sheriff's office, with more than 5,000 employees. He spent 18 years at the Houston Police Department, and served three terms on the Houston City Council, the last as mayor pro tem under then-Mayor Annise Parker.
Democrats have enough votes to push through even controversial nominees. Republicans control half the Senate but Vice President Kamala Harris holds the tie-breaking vote, as long as no Democrats defect.
Jones would be the second openly gay undersecretary of the Air Force.
Eric Fanning held the post for two years under President Barack Obama. He became the nation's first openly gay service secretary when Obama elevated him to secretary of the Army. Cornyn and Cruz did not object when the Senate confirmed him by voice vote in May 2016.
Jones ran for Congress twice in Texas' 23d district, a vast region that spans West Texas from El Paso to San Antonio and includes 800 miles of border.
In 2018, she fell just 926 votes short against then-Rep. Will Hurd. The former CIA officer gave up his seat, and Jones fell 12,000 votes short last fall against Tony Gonzales, a former Navy cryptologist.
Had she won, she would have been the first Filipina in Congress and the first openly gay representative from Texas.
Congress enacted "don't ask, don't tell" in 1993. The ban lasted 17 years, including the time Jones spent in uniform.
The daughter of a Filipino immigrant, Jones attended Boston University on an Air Force ROTC scholarship. She became an intelligence officer, was deployed to Iraq and rose to captain during her stint from 2003 to 2006.
©2021 The Dallas Morning News. Distributed by Tribune Content Agency, LLC.
McClatchy-Tribune News Service