Building bridges with business
Commerce can't thrive without law enforcement – here's how you can improve the relationship
---
By Jeff Turney, Ph.D.
If cities today expect to prosper, the businesses within them must be successful. In addition, business owners must feel their properties are protected and their employees and customers are safe.
The 21st-century policing model established by a 2015 presidential task force is still used across the nation as a guide for law enforcement agencies. The task force advised police leadership to engage in "community policing and crime reduction" efforts that would bring law enforcement and communities together.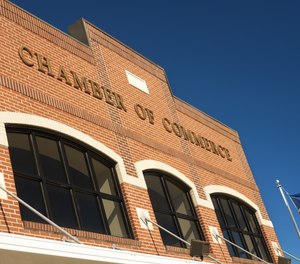 The report identified that community policing is larger than building relationships between individual officers and neighborhood residents – it also requires relationships between law enforcement leaders and the leaders of key institutions within the community, such as churches, businesses and schools. [1] Eight years after that report was published, law enforcement officials continue to search for innovative ways to engage with their communities.
Stop and say hello
Police departments have many customers, which include the residents in their communities, internal and external employees within the city, citizens traveling through the city and finally the business community.
Patrol supervisors and officers are an integral part of the community engagement philosophy. They are in a unique position to enhance the business relationships sought by police leadership. By getting to know business owners within their assigned areas, officers become connected to the community, owners feel the department cares about their well-being and the city becomes stronger as key players work together.
Sometimes this engagement is easily spoken of but hard to accomplish. Several years ago, I assumed responsibility for a patrol district that included my city's downtown business area. When time permitted, I walked the area and spoke to business owners within my newly assigned district. I quickly realized I would be hard-pressed to contact all the owners in the year I'd be assigned to this area. Even more difficult was staying connected with the business owners I'd already spoken to. The common theme I heard from business owners was they saw police officers driving by in patrol vehicles and they loved that officers were in their area, but those officers rarely stopped and said hello.
After hearing these comments, I began searching for an alternative method to connect with the city's businesses. I inadvertently stumbled upon a community many police agencies either underestimated or did not know how to engage. My connection with the business community finally came to fruition through the city's Chamber of Commerce.
My first contact with business owners was as a guest speaker for the chamber, where I addressed "the perceptions of law enforcement in today's society." The presentation was well received but more important, business owners now had a face they could attach to a name, and they could contact me if they had law enforcement-related questions.
When owners had a problem that dealt with patrol, I was able to either manage the issue or connect the business owner with the appropriate services required. Addressing issues such as transients, security briefings and facility assessments enhanced the connection between the businesses and the police department. The relationships grew over the next several years into friendships that continue to this day. Any issues requiring a more in-depth analysis or executive review were directed to the chief's office for assessment and guidance.
Joining forces made sense
I admittedly did not fully understand the chamber's purpose when I first contacted its leadership. While I did not have a good grasp of what the chamber could offer, I did know it was directly connected with the business community. The chamber's charter was to serve as the voice of commerce to the business community, providing programs and services to improve the economic environment for its members. [2]
It also served as a reliable source of community information and a dependable resource for business referrals to area residents and newcomers. The police department's mission was to protect the lives and property of the people. Joining forces to enhance the economic security and vitality of the city was a perfect fit.
I was correct, and communications between the business community and police officers continued to evolve. The department's leadership saw the importance of this new relationship and supported efforts to build upon the connections with the business community. The door was opened to learn how the police department could assist in strengthening the city's economy while keeping its businesses and citizens safe.
The law enforcement community has long stood beside businesses and provided information to business owners regarding how to protect themselves from criminal activity. Patrol officers have responded to incidents at local businesses and watched for suspicious activity throughout the day and night. Officers have routinely responded after criminal activity had taken place to document any losses. This model has been in place for decades, but unfortunately, it doesn't connect the business community with police officers.
Policing continues to look for opportunities to reduce crime. Over the years it has changed from being reactive in nature to a more proactive model. Departments want to get ahead of criminal activity, yet they still struggle to develop procedures that allow officers to keep up with calls for service and provide time to remain engaged with the community. [3] Having relationships with businesses throughout the city keeps the entire community safe while helping the business community prosper.
Developing relationships between patrol officers and business owners is an integral part of maintaining the safety and security of the entire business community. When owners feel officers patrolling in their area are dedicated to protecting their businesses, the resulting relationships grow into friendships. These friendships will become an underlying foundation for the city that let police departments strengthen the community bond and trust between residents, the department and the businesses. [4]
Successful businesses are the "heartbeat" of a city. They create jobs, and those jobs provide residents living in the community with a means to raise and feed their families. These same businesses support the city through taxes and donations to nonprofit organizations when needed. Everyone works together toward prosperity, and this brings citizens, businesses and city departments under one umbrella that enhances every community throughout the city. Everyone becomes a partner and participates in reducing crime to make the city safer. This relationship will not develop if officers remain in their vehicles and fail to get to know the business owners and residents within their patrol beats.
Positive law enforcement interactions with the business community can bring a city to its full potential. Building communities takes a concerted effort from everyone with an interest in the city's prosperity. This includes those residing, working, owning businesses and managing or protecting resources within the city limits. Solidifying these connections can be the difference between a city that prospers or struggles to survive.
References
1. Final Report of the President's Task Force on 21st Century Policing. Office of Justice Programs. May 2015.
2. Lacho KJ. The Use of Chamber Services by Family-Owned Business Chamber Members to Promote Their Business. Institute for Global Business Research. 2018.
3. Koper CS, Lum C, Wun X, Fritz N. (2020.) Proactive policing in the United States: A national survey. Policing: An International Journal. 2020. 
4. Proactive Policing: Effects on Crime and Communities. Weisburd D, Majmundar MK, eds. National Academies Press, 2018.
---
About the author
The 41-year law enforcement career of Jeff Turney, Ph.D., began after he entered the United States Air Force. While with the Air Force, he held many assignments, from patrol officer to law enforcement superintendent managing law enforcement operations. His selection to attend the FBI National Academy preceded his final assignment with the National Reconnaissance Office. There he assumed an expert investigator's role and assisted in protecting our nation's space assets.
Upon completing his military requirements, Turney obtained a sworn officer's position with the Glendale (Arizona) Police Department. He retired as a patrol supervisor, and his background within the department included five years as a domestic violence detective. He currently is the founder of Service B4 Self, a nonprofit organization that supports veterans and first responders, as well as elderly and disabled individuals in crisis. Jeff's educational background includes a Ph.D. in public safety, specializing in leadership; a master's degree in public administration; a second master's in business and organizational security management; and a bachelor's degree in workforce education and development.