Cleveland mayor: Police brass not to blame for problems
Mayor acknowledged there are problems within the police department but insisted that they aren't systemic
---
By Mark Gillispie 
Associated Press
CLEVELAND — The mayor on Thursday refused to blame his top safety department officials for what the U.S. Justice Department says is a pattern of police officers using excessive force and violating people's civil rights.
Safety director Michael McGrath and his predecessor, who is now a mayoral aide, are working to change and improve the department, Mayor Frank Jackson said at a news conference.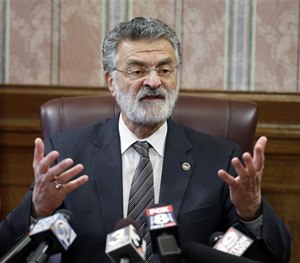 "Much of those changes that have occurred are through their effort and their tenacity of pushing those things from top to bottom," Jackson said.
The mayor acknowledged there are problems within the police department but insisted that they aren't systemic. He deflected blame to officers, their immediate supervisors and to outside forces, such as arbitrators, who reduce or overturn disciplinary decisions.
Capt. Brian Betley, president of the union representing Cleveland police sergeants, lieutenants and captains, said arbitration protects the rights of union members.
Next week, the city and the Justice Department are scheduled to begin negotiating a court-ordered consent decree that will lead to the appointment of an outside monitor to oversee departmental reforms. Jackson has signed a letter that says the city will work with the department to craft the consent decree. The mayor said Thursday that he hoped negotiations would take months, not years. Eight police departments in the U.S. now operate under consent decrees.
In a 58-page report last week, the Justice Department said there were deeply rooted problems in Cleveland with record-keeping, accountability and how use-of-force incidents are investigated.
The report described an "us against them" culture within the police department. Jackson on Thursday called it a "code of blue" where officers fail to stop colleagues from using excessive force.
The Justice Department also investigated police in 2002 for deadly use of force, which led to a voluntary, one-year agreement. The U.S. attorney for the Northern District of Ohio said Wednesday that a second investigation in the same city is unusual.
The mayor said his administration does not agree with all of the report's findings. He would not discuss specific allegations made in the report.
"I don't have a problem with the DOJ report," Jackson said. "I just want to make sure what they're talking about is accurate."
The Justice Department concluded that patrol officers unnecessarily endangered lives by shooting at suspects, hit people over the head with their guns and used stun guns on handcuffed suspects. It also said officers were poorly trained and ill-equipped, didn't know how to implement use-of-force policies and worked in a department that did little to investigate police misdeeds.
The federal investigation began in March 2013, several months after 13 police officers fired 137 rounds into a car after a police chase, killing two unarmed suspects. The officer who fired the last 15 rounds has been indicted on involuntary manslaughter charges while five supervisors face a misdemeanor charge of dereliction of duty. They have all pleaded not guilty.
Some residents have called for Jackson to fire McGrath, the former police chief and current safety director, along with Martin Flask, a former chief and safety director who is now a special assistant to the mayor. Jackson said he does not agree.
The Justice Department report was issued only weeks after a white rookie police officer fatally shot a black 12-year-old boy carrying an airsoft gun, which looked like a real firearm but shot nonlethal plastic pellets.
"The shooting of Tamir Rice is the worst time I've experienced as mayor," Jackson said. "When you look at that DOJ report, you can't escape that in your mind."
Copyright 2014 The Associated Press