Culture is king: Change it or suffer
Caring about people builds positive culture – here's how to accomplish that
---
By Terry D. Anderson, PhD, and Mitch Javidi, PhD
"Culture eats strategy for lunch." — Peter Drucker
The personal values, visions, assumptions, commitments and decisions we make every day form the cultures of our homes, workplaces and communities. It is especially rewarding when our personal values align with those we work with and serve beside in our communities. When people agree on values and vision their sense of mission is reinforced over time because success is usually achieved by collective effort.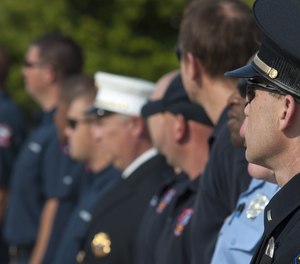 We all have a strong need for a positive culture at work, at home and in our communities. The number one reason why people quit their jobs is that they quit their supervisors. When there is a lack of caring, respectful culture, there often emerges a counterculture and we have seen the impact of this graphically displayed on our televisions and in our streets across the nation during the week after the in-custody death of George Floyd.
What kills positive culture?
Typically, people kill positive culture through willfulness or ignorance.  All too often leaders unwittingly (or sometimes consciously) prevent positive culture from emerging. Discord is often caused by people in positions of power who want and seek to maintain command and control so their own personal agendas are realized. This is often done at the expense of others.
Even in organizations that have competent, culture-building leaders, there are sometimes counter-culture silos that have to be dismantled if organization-wide progress is to be made. These kinds of self-serving managers don't want to risk seeking consensus about values, vision and goals because they often are not "servant leaders" who authentically care about people as a primary value driver of their leadership style.
Here is an example of how positive culture can be destroyed in law enforcement. The rank and file of a large policing agency are mostly aligned and functioning well until a new chief is hired by the mayor and council without consultation with the command staff or other employees.
The new chief believes, out of ignorance, that he should lead in this arbitrary fashion because that is how he was treated in the cultures where he had worked before. He, therefore, believes that to be respected, he has to know what is best and command it to be done. In a way, it isn't his fault that he had not learned the healthy organizational skills of seeking consensus and resolving conflict: He wasn't educated or trained in those key skills and was enculturated by a historically strong command and control mentality.
When the new chief arrives, he puts new values and vision statements on the wall, hands personnel a new but largely irrelevant strategic plan, and orders them to implement it…again, all without consultation with anyone. He treats his staff as though they were servants and, as a result, most employees feel deflated and dejected because they had worked so hard to build a good place to work that was getting good results in the community. The implementation rate of the new strategic plan he orders them to bring forward is less than 25% because it isn't appropriate for the community and isn't supported by staff at all ranks. A year later, this new chief is given a vote of non-confidence by two unions and fired.
The city council and mayor appoint an interim chief (who was deputy chief of the previous collaborative culture that she helped to build) and she selects 25 of the most influential and trusted leaders in the agency to form a cross-functional continuous improvement team. In the next year, they achieve 110% of the strategic plan the team collaboratively designed and the chief approved. They also collaboratively (and cross-functionally) solve over 160 internal organizational problems that were submitted to the team over a year by various employees. The city council and mayor ask the new chief to stay on because they have never seen these kinds of results before.
Even leaders with master's and PhD degrees in organizational development may not have learned the skills to build and maintain a positive culture. They studied about it but didn't learn how to do it. Many people don't get a collaborative kind of moral/ethical grounding at home, at school, or work – and lacking these people and team-building skills prevents the development of a rich culture. This was true of the chief who was fired.
Continuous improvement teams build a positive culture that rules by consensus
"People will help to implement what they help to design." — Steven Haines
Continuous improvement is the ongoing effort to improve services and processes through incremental and breakthrough strategies. It is a method for identifying opportunities for innovation, streamlining work and reducing waste. In its advanced form, Lean Six Sigma processes can be applied to enhance and refine positive results even further.
Continuous improvement teams have been launched in the business sector for over 50 years. Just think about what has happened to watches, toys, electronics, phones and cars. The same processes that drove these improvements in the past need to be applied now throughout the justice and public safety system.   
Creating a continuous improvement team is the equivalent of senior leaders sending a continuously visible and new signal to everyone in the organization that there will be four fundamental thrusts:
Change is rationally based on evidence and intelligence-driven each month;
Major strategic change will be intentionally initiated and monitored by a consensus amongst credible, caring and competent leaders at all levels;
Change initiatives, once committed to, will be monitored, with monthly progress reports, and people who agree to initiate such major changes will be held accountable (not in an oppressive way but with high levels of support), to make positive change happen to the best of their ability;
Continuous improvement will be here to stay as a permanent part of our culture, and that improving our workplace so that it becomes a great place to work is foundational to achieving strategic plan implementation success.
The graphic display of the process can be seen in the 5-step graphic below: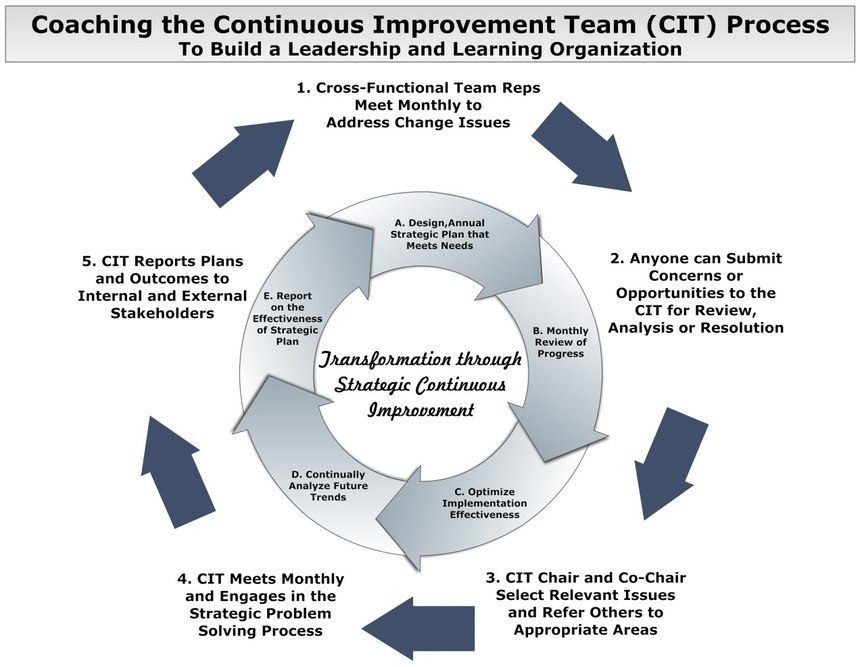 Access an executive summary of this successful approach to working with businesses and policing agencies here.
Continuous Improvement: The DNA of Successful Strategic Plan Execution by Ed Praetorian on Scribd
Learn more about how to make positive change happen in your culture
If you want to learn more about the knowledge and skills that help build positive culture by equipping leaders, including an entire chapter on how to implement a continuous improvement team you can order the book, "Every Officer is a Leader: Coaching Leadership, Learning, and Performance in Justice, Public Safety, and Security Organizations." More information can be obtained about the accompanying IADLEST Certified Program by the same title, Every Officer is a Leader. The book can also be ordered at this same link.
To close, at this time in our history, we believe Dr. Martin Luther King said it best: 
"Returning hate for hate multiplies hate, adding deeper darkness to a night already devoid of stars. Darkness cannot drive out darkness; only light can do that. Hate cannot drive out hate, only love can do that."
---
About the authors
Terry D. Anderson, PhD, is the Chief Leadership Officer for the International Academy of Public Safety and president of Anderson Corporate and Executive Coaching, Inc. He provides strategic change consulting and leadership coaching services for business and police executives. He serves on the command and staff leadership faculty for the National Command and Staff College.
Mitch Javidi, PhD, is the founder and Chancellor of the National Command and Staff College. He has more than 30 years of practical and hands-on leadership development experience in diverse industries including academia, military, law enforcement, government and technology. He has trained at the Joint Special Operations Command "JSOC" and the US Army Special Operations Command "USASOC." He was awarded the honorary member of the United States Army Special Operations Command in 1999, honorary Sheriff by the National Sheriffs' Association in 2016 and honorary Police Commander by the Santa Fe ISD Police Department in 2019. He was also the recipient of the "Spirit Award" from the National Tactical Officers' Association presented to an individual whose work saves lives.