LAPD: Crime up 13 percent, reversing decade decline
Mayor said Los Angeles is still among the safest of the nation's largest cities
---
By Amanda Lee Myers
Associated Press
LOS ANGELES — Crime increased by 13 percent in Los Angeles the first six months of the year, ending more than a decade of declines in the nation's second-largest city, according to statistics released Wednesday.
Aggravated assaults, which include domestic violence, saw the sharpest spike, jumping 26 percent, according to figures released by the Los Angeles Police Department. Rapes were up 8 percent and robberies nearly 17 percent. Only homicides saw a decrease — about 7 percent.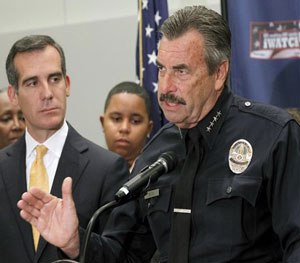 "This is bad news," Mayor Eric Garcetti said at a news conference in downtown Los Angeles. "Any uptick in crime is unacceptable."
Still, Garcetti said Los Angeles is among the safest of the nation's largest cities.
"This is still a championship team that is winning the pennant, but we're winning it maybe by a few less games," he said.
At 259 murders last year, Los Angeles' homicide rate was lower than Chicago's, Houston's and Philadelphia's. At 333, New York City had more murders than Los Angeles, but had a lower rate because of its larger population.
And while murders fell in the first six months of this year in Los Angeles, they've risen drastically in other cities.
In Houston, murders rose by 53 percent the first five months of this year compared to last. Baltimore has had 155 murders so far, a 48 percent increase over the same time last year. St. Louis, New York City, Cincinnati, and New Orleans also have seen homicides increase.
Los Angeles police Chief Charlie Beck partially attributed the overall crime spike in his city to increases in homelessness, gang crime and domestic violence. He said the increases are troublesome, but that the first quarter of the year was worse.
For example, overall crime is up 12.7 percent through June, but it was at 15 percent through the end of March, he said. And though violent crimes were up by more than 20 percent through June, they had been up by 28 percent the first quarter, he said.
"I do take this personally," Beck said. "This is what keeps me awake at night ... That's why I put so much emphasis and pressure on my folks to reverse the tide, and we will."
Beck said an "unprecedented" amount of new programs and training are responsible for helping reduce crime from the first quarter, and that trend will continue.
Among those efforts are 200 more officers dedicated to specific crime suppression efforts, more specialized domestic abuse response teams, and body cameras that officers will start wearing next month.
Officers also are getting more training on working with the mentally ill, constitutional policing and the use of non-deadly force — all aimed at improving trust in the community, Beck said.
"Relationships are everything in policing, and relationships are based on trust," Beck said. "Unless this police department can put money in that bank of trust, we will never develop the kind of relationships we need with this city and our communities to ensure that crime is reduced."
Copyright 2015 The Associated Press.