Long gap in Sheriff Joe's immigration patrols
Critics of America's self-proclaimed toughest sheriff say legal pressure has led Joe Arpaio to suspend his immigration sweeps
---
By Jacques Billeaud
Associated Press

PHOENIX — The Arizona sheriff known for his hardline stance on illegal immigration has gone months without using his most controversial law enforcement tactic.
Critics of America's self-proclaimed toughest sheriff say legal pressure has led Joe Arpaio to suspend his immigration sweeps. But the Maricopa County lawman says his opponents have it all wrong.
"I haven't stopped anything," Arpaio said. "I don't know why anybody thinks we stopped."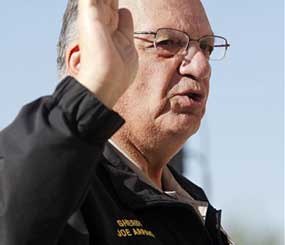 The special immigration patrols are at the center of two separate federal lawsuits, one from the U.S. Justice Department, accusing Arpaio's office of discriminating against Latinos.
During the sweeps, as many as 200 deputies and volunteer posse members flood a designated area, making dozens of traffic stops and arrests. The enforcement zones are sometimes in areas with a large Hispanic population. Illegal immigrants account for nearly 60 percent of the approximately 1,500 people arrested in the 20 sweeps Arpaio has launched since January 2008.
It's been nearly eight months since the last such patrol, marking the longest pause in more than four years.
Arpaio said the break isn't unusual. He added that the news media have not reported about immigration arrests made during more routine patrols by his deputies.
"I am not backing down regardless of them taking me to court," he said. "I am still enforcing immigration laws. They are being arrested and are going to jail."
But Arpaio's critics, such as the ACLU of Arizona, say he has backed away from the patrols because they make it more difficult to defend against the lawsuits that say his deputies racially profile Hispanics in immigration enforcement efforts.
"It's not in his best interest to conduct these high-profile sweeps before he is put on the stand to defend his practices," said Alessandra Soler, executive director of the American Civil Liberties Union of Arizona.
The sheriff's office completed its last sweep in southwest Phoenix in October. Previously, the longest break was a six months stretch during the first half of 2009, when civil rights officials with the Department of Justice told the sheriff they were investigating him.
The Justice Department filed a lawsuit last month saying the sheriff's office carried out a pattern of discrimination against Latinos in his sweeps and had a culture of disregard for basic constitutional rights. Arpaio is accused of launching some sweeps based on citizen letters that complained about people with dark skin congregating in a given area or speaking Spanish but never reported an actual crime.
The department is seeking an agreement requiring the sheriff's office to train officers in how to make constitutional traffic stops, collect data on people arrested in traffic stops and reach out to Latinos to assure them that the sheriff's department is there to also protect them.
A second lawsuit focusing on the patrols is scheduled for trial next month in federal court. The handful of Latinos who filed the suit say officers based some traffic stops on the race of Hispanics in vehicles and made the stops solely to check their immigration status. The plaintiffs aren't seeking money. Instead, they want Arpaio to enact changes to guard against what they said is discriminatory policing at his agency.
Arpaio is fighting both lawsuits, denying the charges and saying his patrols are within the law.
In December, a judge considering the lawsuit brought by two groups, including the ACLU, on behalf of the Latinos who say officers pulled them over with no probable cause ruled that deputies enforcing Arizona's immigrant smuggling law cannot detain people based solely on the suspicion that they're in the country illegally. Arpaio has appealed that decision.
In that same ruling, U.S. District Judge Murray Snow noted the case's evidence could lead a judge or jury to conclude that Arpaio's office racially profiles Latinos.
The sheriff remains defiant. He vowed to launch another sweep in the future and said he is still raiding businesses suspected of hiring illegal immigrants and arresting suspects in more routine traffic stops along roadways that are known smuggling routes.
"I am not backing off," he said. "You can tell all the critics, `Look at the statistics, and look at all the illegal immigrants we have arrested."
Copyright 2012 Associated Press