NC cop uses Marvel costume to connect with teens, community
Sgt. Clint Ferguson says his hobby "bridges the gap and shows [police] are human"
---
By Kara Fohner
News-Topic
GRANITE FALLS, NC — Sgt. Clint Ferguson has more than one uniform.
His first, the one he wears each day as a patrol officer at the Granite Falls Police Department, is the one most people see, an important, physical representation of the solemn oath he took to protect and serve his community, at times risking his life to do so.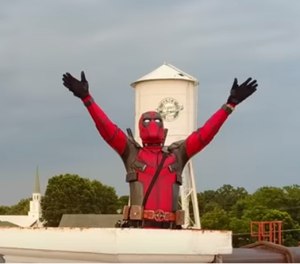 His second doesn't hold the sanctity of the first. He took no oaths to wear it. In fact, it's a costume. In it, he embodies a fictional character, a Marvel Comics antihero named Deadpool.
Ferguson is a cosplayer, a hobbyist who dresses up as fictional characters ("cosplay" comes from "costume play") and goes to events – sometimes comic conventions or fundraisers for terminally ill children. His Deadpool costume is custom-made, and he made the props himself, looking up YouTube tutorials to design, build and paint foam armor, swords and helmets.
He has been a cosplayer for around four years, and his interest in it is rooted in an early love of Halloween.
"What got me into it was Halloween as a kid. I've always loved Halloween," he said. "I actually made my costumes every Halloween, but I would stick to horror, usually. I did the 'Dark Knight' Joker, Heath Ledger's Joker, one time."
Later in life, after a movie about Deadpool came out, Ferguson felt drawn to the character.
"He's not a perfect superhero," Ferguson said. "He has a sense of humor, … so when I cosplay, it's not so much acting. It's just me being me."
To Ferguson, cosplaying is a fun, off-duty pastime and an outlet for his artistic proclivities, but it also serves a purpose. The costume is an icebreaker, a bridge between himself and his community that helps him to personally connect with those that he serves as a police officer. When the Granite Falls Police Department recently released a lip-syncing video – part of a viral online trend in which law enforcement officers filmed themselves lip-syncing to popular songs – Ferguson was shown in his Deadpool costume.
"They let me do that. I told them why. I said, 'I think community policing sometimes is a thing of the past, and it's not as common anymore,'" he said. "As a whole, police, we're not getting out and interacting with kids, teenagers, even adults, to show them that we're human."
He said that when people he meets learn about his hobby, they're often surprised.
"You would not believe, when I tell people what I do, it blows their mind. When I'm talking to them, they're looking at me, they're like, 'Man, I can't get past the fact that that's you, but you're in a uniform. You're a cop,'" he said. "And I say, 'Why is it hard to believe? What do you like doing?'
"And honestly, that's what I think bridges the gap and shows that we're human, and we're not robots."
It's a way to break the ice, especially with children, he said.
"Or if it's a real young kid, where they still have their imagination, I'll tell them, 'Hey, I'm best friends with this superhero. … I got him on speed dial if you want to meet him.' It just blows them away," he said.
Ferguson said that often, people have preconceived notions about law enforcement officers, and when they learn that he cosplays when he is off-duty, it humanizes him.
"It stuns them. They don't know what to do. They may think I'm just a robot. I'm going to pull them over, you know: 'License, registration, here's your ticket,' and move on. But no," he said.
Ferguson's wife, Bridgett, travels with him to comic conventions. She is supportive of his hobby and is interested in cosplaying. She enjoys anime, a type of Japanese cartoon, so instead of going to the beach, the two often spend vacation time traveling to cosplay events.
"It makes him so happy to," Bridgett Ferguson said. "If he does have any stress from his job, it's like a stress relief."
Ferguson agreed that the creative work it takes to design costumes and props helps him unwind.
"The sky's the limit. Whatever you have in your imagination, you can make," he said.
McClatchy-Tribune News Service