NYPD commissioner, Manhattan DA meet amid dispute over prosecution policies
Commissioner Keechant Sewell had said that a new DA policy would "invite violence against police officers"
---
By Rocco Parascandola
New York Daily News
NEW YORK — Manhattan District Attorney Alvin Bragg and Police Commissioner Keechant Sewell played nice Tuesday amid an ongoing dispute about how he plans to prosecute certain crimes.
The sitdown at 1 Police Plaza between two of the city's most prominent law enforcement leaders came as police union officials questioned the DA's decision-making in an alleged knifepoint stickup at a Lower East Side Duane Reade.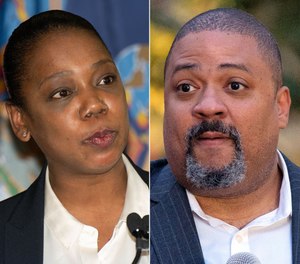 The DA and Sewell said in a joint statement they "met to discuss issues of mutual concern."
"The discussion was open, candid and productive," the statement said. "The meeting was to share ideas and examine policy differences that could be clarified and harmonized toward a common vision that acknowledges the need for criminal justice reform and alternatives to incarceration.
"It was agreed that police and prosecutors would weigh the individual facts and circumstances of each case with a view toward justice and work together to keep New Yorkers safe."
[RELATED: NYC's top cop: Manhattan DA's new policies will put officer in danger]
Bragg, a former federal prosecutor who campaigned on a promise of criminal justice reform, issued a memo shortly after taking office stating that line prosecutors should not bring armed robbery charges in commercial settings as long as the offender "didn't create a genuine risk of physical harm." Instead, the memo stated, prosecutors should pursue petty larceny charges.
The memo set off a firestorm.
Sewell wrote that the new policy "injects debate into decisions that would otherwise be uncontroversial, will invite violence against police officers and will have deleterious effects on our relationship with the communities we protect."
After the meeting, Bragg and Sewell vowed to continue "collaborative discussions." But just as it concluded, the Police Benevolent Association questioned why Bragg's office only brought misdemeanor charges against William Rolon, 43, who has 39 arrests and two state prison terms on his record.
"New Yorkers know the difference between shoplifting and an armed robbery. This experiment in denying reality has already failed miserably in cities across the country. District Attorney Bragg needs to abandon it, fast," PBA President Patrick Lynch said.
Rolon is accused of brazenly stealing $2,200 worth of items from a Delancey St. Duane Reade on Saturday, stuffing mostly cold medicine and cough syrup into a garbage bag, according to a criminal complaint and the NYPD.
When a store custodian confronted Rolon, he allegedly lashed out, telling her, "F—k you — I'm taking everything!"
Rolon flashed a silver pocketknife, leaving the store employee "in fear of physical injury, serious physical injury or death," according to the complaint.
Rolon fled with an accomplice — but then returned alone later that night and grabbed more than $100 in cold medicine and paper towels, police said. He was then arrested.
Prosecutors only hit Rolon with misdemeanor charges of menacing, weapons possession, petty larceny, harassment and possession of a bag of heroin — misdemeanors punishable by up to a year in jail.
A police source questioned why he wasn't accused of robbery.
"He had a knife. It even says it in the complaint. How is that not a robbery?" the source said.
Bragg's office did not respond to repeated inquiries about the case.
The Legal Aid Society, which is representing Rolon, said more serious charges would not do any good.
"Mr. Rolon is a prime example of a person in need of treatment and resources, not incarceration," the Legal Aid Society said in a statement. "Jail and prison only create a vicious cycle of incarceration and only serve to exacerbate root-cause issues and to detract from public safety."
Rolon has a pending assault case in Brooklyn, where he's accused of bashing a rival in the face with a broomstick.
He was paroled in December 2017 after serving eight years for an attempted robbery in Brooklyn. Before that, he spent five years behind bars for an upstate robbery conviction.
Bragg, Manhattan's first Black district attorney, has said his new policies were misunderstood and vowed that reducing gun violence and ensuring safe streets is his top priority.
"We know that our first civil right is the right to walk safely to our corner store," he said Saturday.
"These policy changes not only will, in and of themselves, make us safer," Bragg wrote in the memo. "They also will free up prosecutorial resources to focus on violent crime."
©2022 New York Daily News. Visit nydailynews.com. Distributed by Tribune Content Agency, LLC.
McClatchy-Tribune News Service