Philly chief defends officers in viral video of Starbucks arrest
The incident sparked protests from the community over the weekend, with many calling for the firing of the employee who contacted police
---
By Police1 Staff
PHILADELPHIA — Philadelphia's police chief said his officers did nothing wrong after viral video of officers arresting two men at a Starbucks sparked outrage.
The video shows police handcuffing two men at the cafe Thursday after Starbucks employees called police and said the men were trespassing, the Associated Press reports. The video went viral and prompted accusations of racism on social media.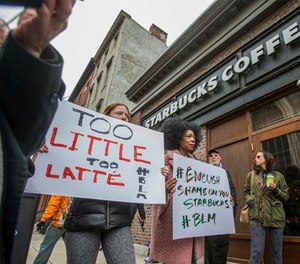 Commissioner Richard Ross said the men asked to used the restroom at the cafe but were denied because they didn't buy anything, which he said is company policy. Ross said the officers asked the men three times to leave but they refused to, leading to the arrest.
The two men, who have not been identified, were reportedly commercial real estate professionals who were meeting with a man to discuss business, according to The Philadelphia Inquirer. 
Ross defended his officers after the video went viral, saying that they "did absolutely nothing wrong" and that they conducted themselves professionally.
"As an African American male, I am very aware of implicit bias; we are committed to fair and unbiased policing," Ross said. "If a business calls and they say that 'Someone is here that I no longer wish to be in my business' (officers) now have a legal obligation to carry out their duties and they did just that."
Ross also recalled an incident in which a uniformed sergeant was denied access to a Starbucks bathroom, saying the cafe is "at least consistent with their policy."
Mayor Jim Kenney has asked the city Commission on Human Relations to examine Starbucks' policies "including the extent of, or need for, implicit bias training for its employees." 
He also added that a review promised by police of policies in similar situations "is fully warranted given the unfortunate outcome of this event, particularly at a time when our criminal justice reform efforts are focused on avoiding needless incarcerations."
The incident sparked protests from the community over the weekend, with many calling for the firing of the employee who contacted police about the men. Starbucks has since apologized for the incident, and its CEO said he would like to speak to the two men involved.
The two men were released "because of lack of evidence" that a crime was committed, a spokesman for the district attorney's office said.
@Starbucks The police were called because these men hadn't ordered anything. They were waiting for a friend to show up, who did as they were taken out in handcuffs for doing nothing. All the other white ppl are wondering why it's never happened to us when we do the same thing. pic.twitter.com/0U4Pzs55Ci

— Melissa DePino (@missydepino) April 12, 2018