Texas police chief reinstated after allegations he failed to act on school shooting threat
"I've been a cop 30 years and, man, sometimes, you don't see that kind of love to a cop. That made me feel good," Chief Gilbert Guerrero said
---
By Dina Arévalo
The Monitor
DONNA, Texas — Ten days after he was fired for allegedly failing to respond to a school shooting threat, Gilbert Guerrero has learned that he will be reinstated as Donna police chief effective Monday.
"It's the power of, I guess what you say, the truth," Guerrero said when reached by phone Friday.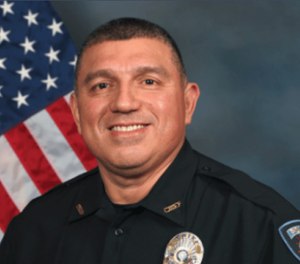 Guerrero was notified of his pending reinstatement via a letter addressed to him Friday by Donna interim City Manager Frank Perez.
"In my reconsideration, I have taken into account the matters contained in your letter of June 7th, your long tenure and career as a law enforcement officer as well as the fact that you enjoy the confidence of your department personnel," Perez stated.
"I am therefore, (sic) reinstating you as Chief of Police in the City of Donna effective Monday, June 20..." he further stated.
Perez terminated Guerrero on June 7 after alleging the chief failed to properly respond to the threat of a mass shooting at Donna High School — a threat that was discovered on the same day as the Uvalde school massacre, May 24.
But after questions began to swirl on social media over why Guerrero was fired, Perez on Monday released a memo detailing his reasons for terminating the popular police chief.
Perez alleged that Guerrero had failed to respond to the threat, which was relayed to him by one of his investigators during a departmental meeting the following day, May 25. Perez further alleged that Guerrero had prohibited the detective from investigating the anonymous tip.
[PREVIOUS STORY: Fired Texas police chief denies accusation that he failed to act on school shooting threat]
But it was through that detective's investigation, with help from the FBI, that four suspects were later identified and taken into custody.
Two of those suspects — Barbarito Pantoja and Nathaniel Montelongo, both 17 years old — remain in custody pending trial for conspiracy to commit aggravated assault with a deadly weapon. The other two suspects are juveniles.
Since the beginning, Guerrero has claimed his termination was, in reality, an act of political retaliation over his disagreement in the hiring of a former Donna ISD police officer, Frank Limon, as assistant chief.
Guerrero's termination soon morphed into a he said, he said of allegations of political posturing — both from the ousted chief and the interim city manager, but also from members of the community.
On Tuesday, a small handful of residents staged a protest on the steps of Donna City Hall to demand Guerrero's reinstatement.
Armed with signs of support and handwritten and online petitions, the group said they had about 500 signatures from Donna residents who wanted Guerrero back.
Then on Thursday, dozens of those residents filled the city council legislative chamber and spilled out into the hallway in anticipation of a specially called meeting in which Guerrero's reinstatement was set to be the first topic of discussion.
But the meeting never happened after three councilmen — David Moreno, Joey Garza Jr. and Oscar Gonzales — failed to show up, meaning the council could not establish the quorum needed to call the meeting to order.
Surrounded by the press and residents afterward, the interim city manager declined to comment further about Guerrero's termination, saying he had been advised not to by the city's attorney.
But when asked if Guerrero could, in fact, be reinstated by an action of the city council, Perez referred to the Donna city charter, which grants hiring and firing powers to the city manager and prevents the governing body from interfering.
Perez also seemed to imply that Guerrero had failed to follow an administrative policy to appeal his termination.
"There's a legal process. He's gotta grieve first, file a grievance, if he doesn't agree with the decision we made," Perez said Thursday.
"And then from then on, we take it all the way up to possibly court if we have to. But there's a legal process that he has to follow per city of Donna policy," he further said.
But Guerrero said he did follow that process by filing a grievance the very day of his termination.
And Perez's own letter on Friday states as much, admitting that Perez received a letter from Guerrero on June 7.
Perez did not immediately return a request for comment Friday.
Meanwhile, Guerrero was humbled and thankful — both to his family and to the residents who gathered to support him throughout the week.
"I've been a cop 30 years and, man, sometimes, you don't see that kind of love to a cop. ... That made me feel good," Guerrero said of the community's show of support.
Guerrero will return to the Donna Police Department on Monday. He said his first order of business will be to address his officers to emphasize that the city's political battles shouldn't affect them doing their jobs.
His next order of business will be working with the school district to hammer out a plan to better deal with public threats in the future.
"I'm gonna see and make sure we have protocols as to these calls when we get anonymous calls and how we handle them — and make sure that they're handled the right way," Guerrero said.
"That's gonna be addressed, for sure... how timely we need to take care of those anonymous calls like that and who handles it and what."
___
(c)2022 The Monitor (McAllen, Texas)
McClatchy-Tribune News Service