What can law enforcement expect from Supreme Court nominee Neil Gorsuch?
There is nothing in the tea leaves to suggest Gorsuch will be antagonistic toward our nation's law enforcement, in fact the opposite appears to be in evidence
---
The pick is in and President Donald Trump has nominated Tenth Circuit Court of Appeals Judge Neil Gorsuch as the replacement for Justice Antonin Scalia. Gorsuch, considered an exceptional writer and an interpretive textualist, is the youngest Supreme Court nominee since Justice Clarence Thomas in 1991. He holds a Ph.D from Oxford University, with a law degree from Harvard University and an undergraduate degree from Columbia University. Clearly the judicial nominee is well-educated and intelligent, but a quick review of some of his Tenth Circuit opinions shows that he writes very clearly and directly, often cutting right to the core of the issue in a case. 
Professional experience 
As a Supreme Court nominee he follows the familiar path of many of his predecessors—he clerked for a sitting Supreme Court Justice. Gorsuch first clerked for fellow Coloradoan Justice Byron White and then for Justice Anthony Kennedy, after White's retirement. If confirmed by the Senate, Gorsuch will re-join Justice Kennedy in the Supreme Court.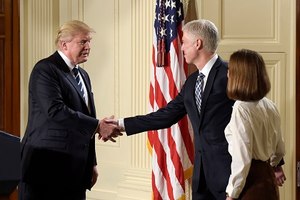 Prior to his Supreme Court clerkships, Gorsuch clerked for District of Columbia Circuit Court Judge David B. Sentelle. He later entered private practice as an attorney where he remained for ten years before joining the Justice Department as a principal attorney to the associate attorney general and then as the associate attorney general. In 2006, after two years in the Justice Department, he was appointed to the Tenth Circuit Court of Appeals by President George W. Bush.
Judicial philosophy
As a judge who has spent just over a decade on a federal appeals court, there is plenty of written work available to gauge his judicial philosophy. Much has already been written about his conservatism and the potential impact he might have on the Supreme Court in cases dealing with the Establishment Clause and reproductive rights. Speculation has also begun on the effect his prior relationship as a law clerk may have on Justice Kennedy, who is often a "swing vote" in many close cases, in voting as well as on his possible decision to retire. 
However, not much has been written on Judge Gorsuch's criminal law decisions. In a March 2016 dissent, Gorsuch disagreed with a majority decision siding with law enforcement officers who ignored "No Trespassing" signs and entered the curtilage of a home to knock and inquire about a complaint of an individual possessing a gun. The investigation led to drug and weapons charges against several individuals. Judge Gorsuch's dissent took issue with what he viewed as the majority's strained reasoning. 
Much like Justice Scalia's majority opinions in Kyllo v. United States (2001) and Florida v. Jardines (2013), Gorsuch's dissent argued for constitutional protection around the home from overt government intrusion in line with the guarantees of the Fourth Amendment. A few months later, writing for the majority, Gorsuch issued an opinion which found that the National Center for Missing and Exploited Children was a governmental actor and that a search warrant should have been obtained to secure internet material from AOL through its Image Detection Filtering Process. Since the government preserved its third-party doctrine argument, the district and circuit court reserved decision on that issue. However, it is clear from these two 2016 cases that Gorsuch takes as clear and straight-forward view of the protections of the Fourth Amendment as Justice Scalia. 
Qualified immunity
On a separate subject, that of qualified immunity, recently addressed by the Supreme Court in White v. Pauly, Gorsuch was the author of a series of opinions from January 2012 to February 2013 which sided with law enforcement officers and their municipal employers in civil rights claims brought against the officers and their agencies. In one case, Hernandez v. Story, et al., Gorsuch, writing for a three judge panel, reversed the lower district court's denial of summary judgment for two police officers sued under 42 USC §1983 for malicious prosecution. 
The plaintiff in the case sued after he was arrested, but was not convicted for battery during a drunken bar brawl. Gorsuch wrote that the plaintiff "failed to carry his burden of establishing that his arrest and prosecution clearly lacked probable cause under existing law…" The Hernandez opinion and other Gorsuch opinions concerning qualified immunity show him to be in line with Supreme Court decisions over the past six years which have dealt with police officer qualified immunity.
Time will tell how the new Supreme Court nominee will turn out, if confirmed, as a Justice upon the nation's highest court. There is nothing in the tea leaves to suggest Gorsuch will be antagonistic toward our nation's law enforcement, in fact the opposite appears to be in evidence. However, he will expect the values and protections of the Constitution to be adhered to and applied, which is nothing less and nothing more than anyone who puts on a uniform can expect.