Why 2021 will be a year for extrospection
We have to think like those who attack law enforcement in order to move forward
---
My 2019 year-in-review article ended with this:
"We know that whatever gets thrown in our way, whether by the public, our peers, or the policymakers, our hearts are still beneath the badge reminding us what our purpose is. Whether we consider the turn of the calendar page on January 1 as just another day or the dawn of a new decade, there's never a bad time to do a good thing. If the pendulum of cop antagonism is swinging slowly back to common sense, 2020 could be a pivotal year. It might be a little easier to remind ourselves why we got into law enforcement in the first place because that never changed no matter how hard it was."
The article, in painful irony, speculated that perhaps anti-police sentiment was waning. I never claimed to be a prophet. That closing thought is still true, but we need a new theme for 2021.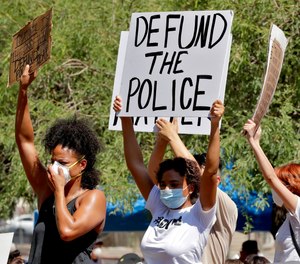 Instead of introspection, it may be time for more extrospection, defined as the examination or observation of what is outside oneself.
Sun Tzu speaks
For a profession that thought our enemy was that subset of the population that engages in violent and criminal behavior, 2020 turned us upside down.
Prisoners were released to protect their health, bail was eliminated in many places and felonies were voted into misdemeanors or less. Politicians and prosecutors were handing out passes and get out of jail free cards at the same time prosecution of police officers increased. Arson and theft became free speech.
In the "Art of War," philosopher Sun Tzu says: "If you know the enemy and know yourself, you need not fear the result of a hundred battles. If you know yourself but not the enemy, for every victory gained you will also suffer a defeat. If you know neither the enemy nor yourself, you will succumb in every battle."
In 2020 we didn't know our enemy.
We got deceived. We thought those in their ivory towers writing theses about abolishing the police would be scoffed into oblivion, then defunding became a reality. We thought we had all of the protections and weapons to control civil unrest, then we were castrated by our leaders. We thought surely rebellion would not happen to our beloved agency, then we found insults on our meal receipts and spit in our drinks.
Our "enemies" became our government leaders, our funders and many who once begged us to be in their schools and neighborhoods. Our coffee oases became dangerous. The bikes we rode and the cars we drove were boycotted because cops used them.
Now, before we start thinking of the public we serve as our enemy, that's not where I intend to go in this thought exercise. The enemy is bad ideas. The enemy is propaganda that convinces people that bad ideas are good ideas. The enemy is ignorance and misinformation. How do we fight that?
Extrospection
One of Police1's offerings is the "State Your Case" debate column where I and fellow contributor Jim Dudley are arbitrarily assigned a position to advocate.
Most readers get it, but not a few have expressed outrage that veteran cops like Jim and I could argue against traffic enforcement or in favor of muzzling social media comments by officers or advocating sickouts as a protest. The answer is simple: We have to think like our opposition in order to move forward.
Investigators anticipate defense attorney arguments. Streetwise cops know the habits of burglars and drug peddlers. We gather data for intelligence-led policing, watch the internet for threats, and use informants to keep us updated on the language and behavior of lawbreakers. It is now time to monitor academic philosophies and fringe political movements, not to look for subversive activity, but to understand the challenges we may face in the future.
We may think little of ivory tower philosophers or the latest activist screaming through a megaphone on the street corner, but if we fail to understand their cause, motives and rationale we risk being caught unaware in the next attack on the integrity of law enforcement. Sun Tzu knew this and sought to know his enemies.