Zimmerman/Martin case: Exclusive interview with former Sanford police chief and captain
The death of Trayvon Martin was an avoidable tragedy, and some of the things that happened following the incident are also avoidable if we heed to the lessons learned by two of Sanford's top cops
---
Born and raised in Sanford (Fla.), former Sanford Police Chief Bill Lee was in his position 11 months when the shooting death of 17-year-old Trayvon Martin by George Zimmerman occurred. 
Leveraging his three decades of law enforcement experience, Chief Lee was at the helm of a department with budget woes. Two months before the Zimmerman/Martin incident occurred, Lee had hired another law enforcement veteran with 30 years of experience, Captain Robert O'Connor, to help navigate the agency through troubled financial waters.
With their 60 years of combined law enforcement experience, Lee and O'Connor were well versed in major case management and investigations, but few cases in recent memory had the same level of attention and emotion as the Zimmerman/Martin incident.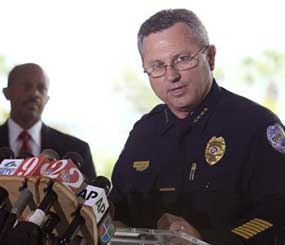 These two law enforcement officers were at the center of the storm, but until now have been largely silent on their lessons learned. Here, they candidly speak about the case.
Initial Actions
Following the incident, O'Connor was placed in charge of the Zimmerman investigation. Three canvasses of the neighborhood were done the night of the shooting. A video re-enactment was done, and George Zimmerman was cooperative. 
The department held a meeting with the residents in the gated, townhome community that was home to a cross section of ethnicities including whites, blacks and Hispanics.
"We answered as many questions as we could for homeowners. We were honest with them," O'Connor said. 
After 48 hours of investigation, the local State's Attorney was given a run-down of the findings. Lee and O'Connor were told by the State's Attorney's Office that there was no criminal case, and there was no way to prosecute. It appeared to be a clear case of self-defense. 
Lee and O'Connor, however, continued the investigation. 
"Our focus was the truth about what happened. There wasn't anything to refute or invalidate Zimmerman's claim to self-defense. Race didn't have anything to do with the investigation," Lee said. 
O'Connor added, "In my mind, it was never racial. It was a misunderstanding that went horribly wrong."
Public Information
Following the incident, there was already plenty of publicity about the case in the local news media. 
When the dissemination of sensational information began in national media outlets, the department's Public Information Officer (PIO) was on leave for a family medical situation. 
City Hall didn't have its own PIO and utilized the police department's PIO when needed. Consequently, a PIO was appointed to handle the media issues but was not prepared for the major challenges that arose in the case. 
"We didn't have something in place to combat that. This wasn't anything one person could handle," Lee said. "It just got worse every day."
By this point, it had become a national story, with both information and misinformation about how the encounter occurred and how Trayvon died. 
"The biggest travesty by the media was showing Trayvon when he was 12-13 years old," O'Connor said. "He was a six foot, 160-pound, 17-year-old young man. Those images of young Trayvon Martin did more to incite this case than anything they would have done, and they did it masterfully." 
Politicians — both near and far — entered into the situation. The police department was widely criticized for not arresting Zimmerman. The most frequently asked question by City Manager Norton N. Bonaparte Jr. was, "Can we arrest him now?" 
"We had investigative team meetings going on regularly that included the State's Attorney's Office," Lee said. 
The police department felt it was inappropriate to release the 911 tape. Lee explained the entire process at several different meetings, but the mayor overrode Lee and ordered the release of the tape. 
"I was personally appalled when the decision was made by City Hall to give out the 911 call. This thing grew legs so quickly," O'Connor said. 
For a two-week period, the police department had no information from Trayvon Martin's phone. The battery had died and the phone was locked. They were thwarted in gaining access to the locked cell phone in a timely manner because Trayvon Martin's family became uncooperative once attorney Benjamin Crump and his team got involved. As a result, police had to work with T-Mobile to obtain a subpoena with which they could retrieve the cell phone information. 
"I had no confidence that it would ever be prosecuted as a manslaughter case without additional information. I wasn't comfortable with not having that information, but the pressure on the police department to arrest and charge George Zimmerman was incredible," O'Connor said. 
A very weak probable cause case for manslaughter was sent to the State's Attorney's Office, and Chief Bill Lee continued to receive strong political pressure. 
After meeting with the prosecutor again, it was recommended that Zimmerman not be arrested because there was no probable cause to do so under Florida statute. 
"We agreed with him," O'Connor said.
After 15 days the investigation was pulled from the Sanford Police Department. The Governor of Florida assigned the case to Angela Corey, the State's Attorney in the 4th Judicial District in Jacksonville, Florida.
Chief Lee was relieved of his duties and was informed the community no longer had trust in him. 
"The whole thing has been pretty ugly. I'm at peace with it on most days. I was happy I could walk away with my integrity," Lee said. 
Lessons Learned
For police departments elsewhere, there are lessons to be learned. The public information process is vitally important. It is imperative to have a well-trained, educated PIO in place and one that is immediately prepared to deal with the worst and have a plan for the unexpected. 
It is also necessary to have an equally-qualified backup PIO at all times. 
"Any racially-charged or potentially racially-charged case has a hundred land mines in it," O'Connor said. 
"If your community has a history of racially-charged issues, begin dialogue with your community now," he said. "Have a lasting, trusting relationship with your minority community. Establish a community liaison with the minority community and deal with them openly and honestly as well as prepare the department and community for an event of this nature and hope it doesn't happen." 
But the most important lesson O'Connor took from the saga is a simple one. "Interpersonal communication is the biggest lesson I came away with. People need to talk," he said.
"It's surprising how quickly people turn on you," Chief Lee added. Lee also noted police agencies need to understand they are rolling the dice if they are running on a shoestring budget. 
"The least little thing can make it pop. Public safety is not something you shortchange," Lee said. 
Lee stressed the importance of having a global view of the police organization and recommends not taking relationships in the community for granted. An integral piece of advice is not to compromise individual integrity — no matter how hard the situation becomes.