After group of teens assault Boston officers, police union pushes for more cops
As officers tried to break up fights, teens began to assault officers; one officer was pushed to the ground, and was repeatedly punched and kicked by the group
---
By Rick Sobey
Boston Herald

BOSTON — After swarms of teenagers wreaked havoc at the South Bay shopping center and in Downtown Crossing over the weekend, allegedly assaulting police officers and putting one in a chokehold, the city's top cop is calling on parents to rein in their kids ahead of the school year.
Eleven teenagers and two 12-year-olds were arrested following the mayhem on Sunday outside the AMC movie theaters in South Bay and Downtown Crossing. Moviegoers were randomly attacked, according to police.
"I'm going to make a plea to parents, particularly as we get ready to go back to school," Boston Police Commissioner Michael Cox said during a press conference on Monday.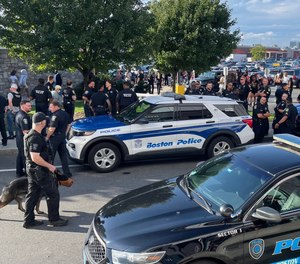 "If you can do your best before we go back to school here, making sure you know where your kids are, and more importantly, maybe have a talk with them about visiting some of these areas," he later added, saying this trend of young people being "very disruptive" is "disturbing."
Hundreds of kids were reportedly at the South Bay scene Sunday afternoon, where teens were fighting. As police officers tried to get the kids to leave, multiple teens assaulted cops. AMC South Bay Center and Target ended up closing for the evening amid the "complete chaos," police said.
Then later at night at the Downtown Crossing scene, a crowd of teens were again fighting and causing disturbances. One juvenile reportedly jumped on top of a car, and began to stomp on the vehicle's roof.
Then as officers tried to break up fights, teens began to assault officers. One cop was pushed to the ground, and was repeatedly punched and kicked by the group, police said.
A teen reportedly jumped on an officer's back and wrapped his arm around the officer's neck while applying pressure, "in a similar fashion of what is commonly referred to as a chokehold," the police report reads.
"The pressure applied to (the officer's) neck was so strong that he temporarily struggled to breathe in a normal manner," the report adds.
People were randomly attacked at the movie theater, including a victim who was beat up when she was buying popcorn.
Cox said, "This behavior is not kid behavior. This is criminal behavior when you start harming and injuring people in these large groups… Hurting and hitting and injuring other people who are just present, I don't understand that behavior at all, and it's not going to be tolerated in this city."
The Boston Police Patrolmen's Association is pushing for more police officers following the weekend incidents, and the recent rise of juvenile assaults in the area.
"More violence at South Bay Mall. Teens once again terrorizing the area," the Boston Police Patrolmen's Association wrote. "BPD Officers from all over the city on scene. Multiple arrests made.
"But our officers are sick and tired of doing more with less," the police union added. "We need more cops. Get rid of residency and help us hire more."
—
©2023 MediaNews Group, Inc.
Visit at bostonherald.com.
Distributed by Tribune Content Agency, LLC.
McClatchy-Tribune News Service