Calif. police buy bike for teen who walked hours to work
Benicia police noticed Jourdan Duncan walking during the graveyard shift near a highway overpass
---
By Police1 Staff
BENICIA, Calif. — On a busy California highway, Benicia police noticed a teenager walking during the graveyard shift on multiple nights. 
"Usually in the industrial area, there's no foot traffic, so it was kind of weird to see someone walking around on foot," Cpl. Kirk Keffer told The Washington Post.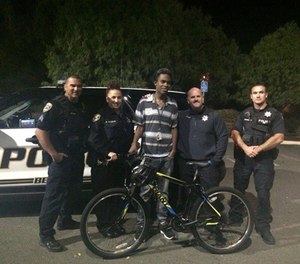 The officer stopped his patrol car, and approached 18-year-old Jourdan Duncan to find out what he was doing there by himself. 
Duncan told Keffer he was walking back to his parents' home from his job where he works on a packaging line from 3 p.m. until around midnight. He was saving up money for college, and eventually wanted to be an officer with the California Highway Patrol, the publication reported.
Cpl. Keffer offered Duncan a ride home and discovered Duncan walked two hours to and from work every day because he didn't want to burden others by asking for rides. 
Keffer told his shift supervisor about Duncan, and they put together money to get Duncan a bike to shorten his commute. 
"We would like to acknowledge your hard work and dedication for what you do and setting the example for kids your age," Keffer said they told him. "Hopefully this'll make your trip easier."
Duncan told the publication his commute is down to an hour and the Benicia Police Department has offered him a ride-along to give him an inside look into law enforcement. 
"It's something I've been interested in since high school. A lot of my family members, they're in law enforcement," Duncan said. "It's like, what they do and, due to a lot of people thinking that there are bad cops out there, I want to prove that all cops aren't bad — which is true, due to what just happened to me."