Charities raise $10M for families of slain Dallas officers
Some of the money will be used to pay off the mortgages of the five families
---
By Tristan Hallman
Dallas Morning News
DALLAS — Emily Thompson didn't think much about finances after her new husband was killed in the July 7 ambush.
She didn't think much about anything beyond her grief.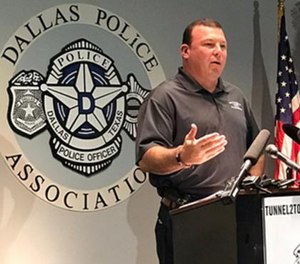 "It was probably a couple weeks because my mind was so jumbled for quite a while. Everybody was the adults in Charlie Brown," she said. "Everything that they said was 'wah-wah-wah.' I was completely detached."
But now, Thompson, who is also a police officer, won't have to think about money. She won't have to worry about working overtime and being away from her 2-year-old son and paying her mortgage.
Private donors from all over the world have given the families a soft landing in the hardest of times. On Tuesday, Dallas city officials and two private foundations will announce that they raised a total of $10 million in the aftermath of the downtown attack.
That money will go into trusts for the family members of the five officers killed: Brent Thompson, a Dallas Area Rapid Transit officer, 43; Dallas police Sgt. Michael Smith, 55; Senior Cpl. Lorne Ahrens, 48; Officers Michael Krol, 40, and Patrick Zamarripa, 32. Some of the money will go to the nine people injured in the attack.
All told, the Dallas Foundation and the Assist the Officer Foundation received thousands of contributions from all 50 states, Australia, the United Kingdom and Italy. Donations ranged from $5 to more than $250,000.
"It has been amazing to see the generosity," Emily Thompson said.
More details will be announced at a 1 p.m. news conference featuring Mayor Mike Rawlings, interim Police Chief David Pughes, DART Police Chief J.D. Spiller and foundation leaders.
In a prepared statement, Rawlings said he is "so honored by the amount of people who have stepped forward to properly assist our fallen and injured officers."
"We owe a tremendous amount of gratitude to the officers who lost or risked their lives to keep us safe," he said. "Out of one of the darkest days in our city's history, we have seen an incredible outpouring of love and support from organizations and individuals all over the world."
Assist the Officer Chairman Frederick Frazier called the donations "a powerful gesture."
Frazier said the donation for more than $250,000 came from a businessman — one whom they weren't familiar with before the shooting — who wished to remain anonymous.
"All he requested was to sit with Chief (David) Brown and express his sympathy for the job officers have to do and thank them," Frazier said.
The foundations had estimated in September that they could have $10 million but were still trying to count what had been sent.
Other groups, such as the United Way of Metropolitan Dallas, the Dallas Fallen Officer Foundation and the Guns & Hoses Foundation, had raised a few million dollars combined for the families by then.
Some donations were sent directly to City Hall and the police department. Those were rerouted to the Dallas Foundation and the Assist the Officer Foundation.
The news conference will come after Monday's announcement that the New York-based Tunnel to Towers Foundation would pay off the mortgages of five families or give them money to buy homes.
Heidi Smith, Michael Smith's widow, said the donations are "just a weight lifted off of my shoulders, knowing that I can do what Mike and I had planned for the girls."
Now, Heidi Smith can keep the lifestyle that her husband had worked extra jobs to make possible. She can maintain her home. She can afford to keep her two daughters, 14 and 10, in volleyball and softball. She can keep her job as a private school teacher, which has good hours, and keep her younger daughter in the same school. She can pay for them to go to college and get married and give them the house one day. She can afford any unforeseen medical expenses.
She had worried about finances. One of her two daughters asked her in the days after the ambush if they could stay in their home.
"It was a huge weight on my mind — to be a widow at 44 years old with two minor children," she said.
The money is a silver lining, she said, in a time that has been "pretty awful."
Kristy Zamarripa, 33, said that she and her two sons, ages 3 and 8,  are also having an emotional holiday season. But the donations help, she said.
"It's really, really heartwarming and it's just kind of unbelievable that this many people care about us," she said.
She recently finished her degree and is considering going to work in law enforcement. Now, she said, she can take her time while she sorts out her life. The money means all her "concerns and energy can go straight to the kids instead of having to look for work to pay everything."
Krol, meanwhile, didn't have children or a wife. Amie Schoenbaechler, Krol's sister, said the money will go to her parents in Michigan.
She said her whole family is grateful for the support.
"It's just amazing all the stuff people have done," she said. "We're just really thankful."
But, she said, their hearts are still aching around Christmas.
"It's wonderful, but at the same time, we just want Michael back," she said.
Copyright 2016 The Dallas Morning News
McClatchy-Tribune News Service