Cops and kids: Why the future of American law enforcement is 'child's play'
You could argue that the true assessment of a police officer is how he or she interacts with juveniles
---
Police1 recently posted a heartwarming story about Chester (N.H.) Police Officer Scott Haggert conducting a mock traffic stop on a tiny Ford F-150 driven by two little children.
Amy Lemiuex Garland (the mother to the two children) posted photos of the event to Facebook along with her effusive praise for Officer Haggert, thanking him for taking time to have a positive interaction with her kids.
"Thank you to the coolest Chester police officer for entertaining my kiddos," Garland wrote. "They will never forget meeting you and getting pulled over for the first time! So cute. Thank you!"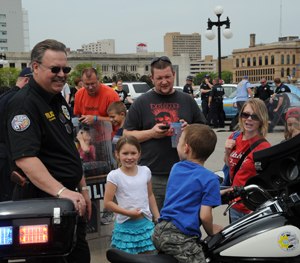 I'm delighted that Ms. Garland saw such value in her kids' brief "traffic stop" with Officer Haggert. I wish there were more parents out there who would seek out such contacts.
Bringing back 'Civics Class' to our schools
Last month, I wrote about the work the San Diego Police Department is doing with the Big Brothers and Big Sisters of America to better connect cops with the kids in the community.
Many such programs exist across the United States. Cops volunteer countless hours for Explorer and Cadet programs, Police Athletic Leagues, summer jobs programs and a host of other formalized ways in which cops can positively influence kids. There are even programs for cops and kids to go hunting together.
Then, of course, there are thousands of School Resource Officers in the hallways and classrooms of American schools, balancing traditional law enforcement with enforcement of school disciplinary policies and personal mentoring to students. And the fact is that most kids truly appreciate the bond they make with their SROs. Just ask Officer Mitch.
On several occasions, I have said on the Policing Matters podcast that we need to bring back Civics Class to our schools. The idea is to teach kids at an early age how government works, and how part of that government is public safety. We should be teaching kids how to respond to all first responders, but especially how to respond to the lawful orders of police officers.
Earlier this month, we reported on a piece of legislation matriculating through the New Jersey state Assembly that would require schools to teach children how to interact with police "in a manner marked by mutual cooperation and respect."
The proposed law mandates that school districts teach kids how to talk to law enforcement officers, with education starting in kindergarten and continuing all the way through graduation from high school.
The New Jersey proposal is as close to reviving the concept of Civics Class that I've ever seen.
Individual cops and their improvised interactions
These formalized, institutionalized programs are incredibly effective. However, one cannot understate the impact that impromptu and improvised interactions such as the "traffic stop" in New Hampshire have on kids in the community. It's important to note that these events happen every day in this country.
Back in April, Grand Prairie (Texas) Police Officer Lyle Gensler passed by a little girl playing hopscotch on the sidewalk in front of her home. He stopped briefly to teach her how to play the game with a stone as a marker. The girl's mother captured video, which went viral on social media.
In June, dozens of police officers descended on a lemonade stand run by a three-year-old aspiring cop in Kansas City, Missouri.
In early July, Asheville (N.C.) police officers were dispatched to a complaint of kids blocking a street at an annual block party and discovered upon arrival that the issue was a large slip-n-slide. Rather than making arrests or issuing warnings, they joined in the fun and played with the kids.
These are merely a handful of such interactions we see on a regular basis. Most cops carry stickers to give to kids. Some have small stuffed animals in the trunk to give to children who witness a violent or unsettling event.
It is my belief that police interaction with kids is the key to reversing the current widespread animosity toward the police. These interactions have a cascading effect. The kids go back home and tell their families about their positive experience with the police. They essentially become advocates as effective (if not more so) as graduates of a Citizen Academy.
Conclusion
With great cops out there on the streets, in the schools, at the basketball courts and on the baseball diamonds, kids of all ages benefit from such interactions. The relationships these kids build with officers also benefit the jurisdiction at large. Young people are mentored and directed toward being more productive members of society. Crimes are prevented.
An argument can be made that the true assessment of a police officer is how he or she interacts with juveniles. If police can gain the trust in this young generation, those individuals will carry that trust over to when they become parents and pass that trust down to their kids, creating a generational recycling of trust.
It all starts with small and simple acts like the "traffic stop" in New Hampshire.