Long road home: How a sheriff's program reunited a missing man with his family
Barry White, a diagnosed schizophrenic, is home safe thanks to this treatment response team
---
By John Keilman
Chicago Tribune
COOK COUNTY, Ill. — A tollway oasis might sound like a strange setting in which to begin a story of a family reunion, but it was there, two years ago, that outreach workers for the Cook County sheriff's office encountered a man with a hard-to-believe name and a profound array of challenges.
His name was Barry White and he had been diagnosed with schizophrenia. Eight months earlier, he had gone off his medication and left his family behind in Memphis, Tennessee, wandering the country in an odyssey whose chapters usually ended in an encounter with the police, a short stay in a shelter and a bus ticket out of town.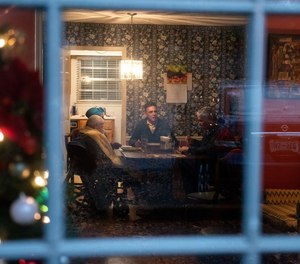 White, then 58, had been living at the Hinsdale Oasis for a week when a concerned business owner there remembered being visited by the sheriff's treatment response team; its primary mission is to prevent drug overdoses and connect users with help, but it also handles matters related to mental health.
The business owner called the team, and community treatment resource specialist Kathryn Schramm came out to meet White, who, deep voice aside, bears little resemblance to the late soul singer who shares his name.
White told her he was Moses and needed to go to the Middle East for medical treatment, but after winning his trust over two days via KFC fried chicken, Schramm convinced him to try to a hospital closer to home.
Meanwhile, Schramm learned White's family had issued a missing person alert for him. His twin brother, Larry White, had been through a similar scenario: When they were in their 30s, Barry left his Memphis apartment with just a backpack and made his way to New York, where Larry was living.
Larry encountered his brother by chance while jogging to his gym — "I believe it was providential," he said — and after some coaxing, Barry, who had been sleeping at a homeless shelter, agreed to get treatment at a hospital. After he stayed a short time in a grim Brooklyn boardinghouse, his parents brought him back to Memphis.
That arrangement worked for decades, but as his parents aged and fell ill with dementia, White had trouble adjusting and again stopped taking his medicine. He struck out on his own once more, winding up in New Mexico and then Wisconsin.
[RELATED: Training day: Documentary provides perspective on police mental health response]
In both places, Larry said, White was cited for trespassing, given a temporary place to stay, then encouraged to move on.
"It seems like what would happen is he would get into a homeless shelter and he would be given money to buy a bus ticket, and he would get on a bus and just go on to the next place," said his sister-in-law, Loretta White. "It was pretty frustrating."
After a few months he ended up at the Hinsdale Oasis. Sgt. Efrain Mata of the treatment response team had encouraged his colleagues to spread the word about their services there, knowing the tollway oases are overdose hot spots, and that's how Schramm got the call about White.
Convincing White to accept hospitalization was just the start of Schramm's involvement. Team members often act as case managers, helping to guide people through the treatment system, and once White was stable, Schramm got him into West Chicago Terrace, a behavioral health care center in the west suburbs.
The team notified White's family about his whereabouts, but once COVID-19 struck, it was clear the best option was to have him stay put, said Elli Petacque Montgomery, who leads the outreach unit.
"If we weren't dealing with the shutdown order, fear of people going to doctors and just the challenges of the pandemic, he would have gotten home sooner," she said.
West Chicago Terrace remained White's home for more than a year and a half, and in that time Schramm stayed in touch, though COVID restrictions prevented visits. White always wanted to return to Tennessee, she said, and once, after he left the center in an attempt to go home, a police officer found him wandering the street.
"He gave them my business card and they had me called late one night," she said. "I was able to give them the information to get him back to the facility."
As the pandemic eased and White's condition improved, Larry and Loretta White moved back to Tennessee, strengthening his support network. Finally, a few weeks ago, the time came for him to head home.
His brother Rene drove up to take him back, but before they left, the sheriff's treatment team had Uber Eats deliver some fried chicken — that culinary bond, stretching back to the Hinsdale Oasis, led White to call Schramm "the Chicken Lady" — and bade him farewell by phone.
"He cried when he received the fried chicken," Schramm said. "The social worker said he was very appreciative of our team. He was able to acknowledge that he never wanted to be homeless again. He was able to remember that scary experience, and he knew he didn't want to go back down that path."
Petacque Montgomery saw serendipity at work in the reunion. If the treatment response team hadn't alerted business owners at the oases about its work, what would have become of White?
"Wandering around, would he have survived the pandemic? Would he have gotten COVID?" she said. "Thank God he could get home."
[RELATED: Putting a face on the homeless]
White now lives in a boardinghouse in Lebanon, Tennessee, just outside Nashville. It's not far from where some of his family lives, and Loretta White said it has given her brother-in-law structure, autonomy and a good social environment.
"He seems to be doing well," she said. "So far we're very happy, and he seems happy too."
Reached on Thanksgiving, just before he shared dinner with Rene and their 97-year-old mother in Memphis, Barry White said he had endured hard times on the road and was glad to be home.
"I'm thankful for seeing my mother, that she's still alive and kicking," he said. "I've got a meal, I've got a roof over my head. That's about it."
The family complimented the sheriff's unit, which since its inception in 2019 has helped about 750 people. Law enforcement usually treated White as a problem to be passed off to someone else, and Larry White said he is grateful the team took responsibility for helping his brother.
"We're often skeptical of the good that government wants to do and says it can do, but of all places, ( Cook County) is the one that did it best," he said.
©2021 Chicago Tribune. Visit chicagotribune.com. Distributed by Tribune Content Agency, LLC.
McClatchy-Tribune News Service