Opinion: Why we must be the example
Every citizen contact is an opportunity to provide a positive, professional and respectful interaction with law enforcement
---
In the wake of George Floyd's death in Minneapolis, there has been a nationwide call for police reform, with the expectation that police officers are held accountable for excessive use of force and other unlawful actions.
If we take a moment and view law enforcement as ONE BODY, we can all agree that we need to do better. With that being said, I know that the majority of law enforcement officers are doing what they were called and sworn to do. Most of us have not forgotten why we chose this honorable profession. However, when we turn on the television or scroll through our social media accounts, you can start to believe that most citizens in our nation do not support the police.
As leaders, we must ensure our officers know that this is not true, but we must also discuss the challenges facing law enforcement professionals today.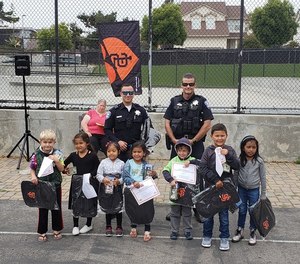 We must be mindful that if we are fortunate to have a positive relationship with our communities, it may not be possible for us to truly understand the depth of what other organizations and communities are experiencing. Although we may not be able to personally relate to those challenges, it is our duty to embrace the challenges faced in other communities like our own.
How can we make a difference?
The Marina Police Department in Monterey County, California, prides itself on continually evaluating and discussing the importance of how we treat those we are sworn to serve and protect. We see every citizen contact as an opportunity to provide a positive, professional and respectful interaction with law enforcement.  
We remind our officers that because we respond to a variety of calls for service throughout our careers, our natural tendency is to become desensitized to the importance of these calls. We must fight the tendency to become complacent, and not forget that this may be the first time someone has been pulled over, been in an accident or a victim of a crime.
We must be mindful that although this may be just another call for service to us, the circumstances of what we were called to may be very traumatic for them. Even though we may only be in their lives for 20 or 30 minutes, how we treat them in that short amount of time can influence how they view law enforcement as ONE BODY, as well as how they view our individual organizations.
Officer selection, training
Due to a significant staffing shortage, our organization spent the last two years focusing on recruitment. During our recruitment process, we carefully selected our new officers. Although recouping our staffing was difficult, we managed to successfully recover. Of our authorized 29 sworn officers, we hired 13, with only 2 being laterals.
From an organizational perspective, our FTO program was bearing a tremendous responsibility. We viewed this as an opportunity to develop and mentor each of our new officers into what we believed would be a model law enforcement professional.
During our staffing crisis, our veteran officers remained committed and loyal to our organization. Although they sacrificed time from their families, having to work numerous hours of overtime to fill vacant shifts, they continued to support our organizational goals while honorably serving our community.
In order to have a successful FTO program, we recognized that we needed their work ethic. Through frequent meetings and discussions with our veteran officers and FTO supervisors, we all agreed on the importance of us being the example. Our veteran officers worked tirelessly and, as a result of their hard work, they are now working side-by-side with the new officers that they trained, while continuing to mentor and develop them through their probationary periods and beyond. They are now able to see that their sacrifices were not in vain.
One call for service, one contact at a time
I am often asked, "With everything going on, how can we make a difference?" My answer is simple, "One call for service, and one contact at a time." More now than ever, how we provide service and how we respond to our community's needs and concerns, should be our top priority. We must embrace the importance of establishing trustworthy relationships, and we must be consistently conscious of how our decisions and actions are crucial in our commitment to providing service in an appropriate and humane manner.
As individuals we must personally hold ourselves accountable for our actions, recognizing that how we treat people influences how society views law enforcement as ONE BODY. Our nation is waiting for us to be better and our communities are depending on us to do the right thing. Regardless of race, ethnicity, or social status and struggles, we must value and respect human life. We must be the example!