Rapper 'The Game', son start fundraiser for Ark. officer
The Game and his son raised over $50,000 for the officer
---
By Police1 Staff
LITTLE ROCK, Ark. — Officer Tommy M. Norman's name went viral last year when he began showing interactions he had in his North Little Rock, Arkansas patrol area through online videos.
Children would flock to his police car, he would give them gifts and snacks, and he became a part of their family—and social media's.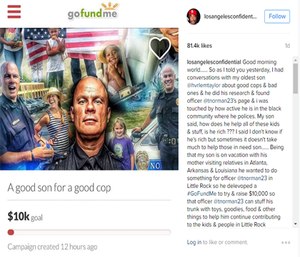 Recently, Rapper 'The Game' and his eldest son, 13-year-old Harlem, took notice. They started a GoFundMe to raise money for Officer Norman to "continue his mission strengthening the community. [They] will be purchasing and delivering items such as snacks, drinks, and toys for him to keep his trunk stocked for the kids and members of the community," the webpage reads.
On The Game's Instagram, he said his son asked about good cops and bad cops and asked how Officer Norman could afford to help all the children out. 
Harlem started the GoFundMe "A good son for a good cop," and The Game donated the first $1,000. 
Originally, the goal was $10,000. The money would be transferred to The Game's charity account "The Robin Hood Project" to deliver directly to Officer Norman. The goal was immediately surpassed and has now raised over $50,000.  
"'It takes a village to raise a child' & this good cop is going the extra mile for a lot of young African American children… #BlackLivesMatter to more than just #BlackLives," the Instagram post  read. 
To donate, check out the GoFundMe page or Officer Norman's Facebook page.