Transgender cop's uniform keeps her out of event she organized
The city's first transgender police officer was kept out of an event at the San Diego LGBT Community Center because she was wearing her uniform
---
By Lyndsay Winkley
The San Diego Union-Tribune
SAN DIEGO — The city's first transgender police officer was kept out of an event at the San Diego LGBT Community Center because she was wearing her uniform.
The event marking the annual Transgender Day of Awareness, which honors victims of anti-transgender violence, was held Nov. 17 in San Diego's Hillcrest neighborhood.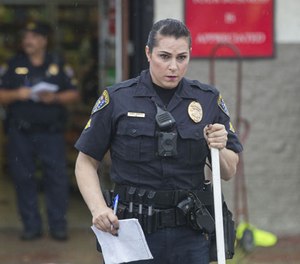 Officer Christine Garcia, who transitioned last year, helped plan the event and was part of the Police Department security detail that watched over a commemorative march down University Avenue.
After the march, when Garcia tried to enter the event as a member of the lesbian, gay, bisexual and transgender community, she was asked to leave because her uniform could upset others in attendance.
When leaders at the center learned what had happened, they apologized to Garcia and San Diego Police Chief Shelley Zimmerman.
"We do not wish to ever make any community member feel unwelcome … these officers are valued members of our community," Delores Jacobs, chief executive of the LGBT center, said in a statement.
Jacobs said the occurrence was a misunderstanding of the center's existing policy of inclusion, which seeks to acknowledge the concerns that members of the community may have without excluding others. Leaders have reviewed the policy with center staff since the event.
"While we need to support those that are uncomfortable and honor their reactions to valid and understandable difficult previous experiences, we also need to explain that … our LGBTQ San Diego police liaisons are a valued part of our community," Jacobs wrote.
City Commissioner Nicole Murray-Ramirez, a longtime LGBT activist, said the incident was an outrage.
"Any officer, be they gay or straight, should be welcomed into our community center in uniform," he said. "They protect our community and neighborhoods and make San Diego a better place."
Murray-Ramirez said relations between the LGBT community and the Police Department have vastly improved over the last several decades, in part because of the work done by liaisons such as Garcia.
"They've really reached out to the community," he said of the department. "They've gotten to know the community. There are always rotten apples, but on a whole we have progressed greatly. And we're very appreciative of them and that progress."
The Police Department said Garcia would not be available to comment.
Police Lt. Scott Wahl, a department spokesman, praised Garcia's work in the LGBT community, noting she recently had been honored by several organizations.
"The San Diego Police Department enjoys having a great relationship with the LGBT community," he wrote in a statement. "We look forward to continuing our partnership in keeping our community safe."
©2016 The San Diego Union-Tribune
McClatchy-Tribune News Service