Video: Conn. cops hand out turkeys instead of tickets
"That's what community policing is really all about — public servants serving the public," Police Chief Armando Perez said
---
By Tara O'Neill
Connecticut Post
BRIDGEPORT, Conn. — A driver pulled over by Bridgeport police Thursday for not wearing his seat belt looked from right to left to see officers on both sides of his car.
"Step out of the car," one officer can be heard saying in a video posted by city police on the department's Twitter page.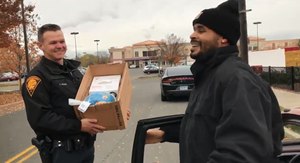 But that officer wasn't holding a ticket for the driver as he pulled into the Stop & Shop plaza on Fairfield Avenue, he was holding a box with a turkey in it.
Some unsuspecting drivers were pulled over by Bridgeport police officers as they pulled into the parking lot of the grocery store and given free turkeys just a week shy of Thanksgiving.
"People were so surprised," said Police Chief Armando Perez. "They're thinking maybe they're going to get a ticket, but they get a turkey. That's what community policing is really all about — public servants serving the public."
As the driver accepted the box from the officer, they shared a hug and the driver thanked police through a smile.
"Hey, you're not wearing your seat belt, but today instead of a ticket you get a turkey," said Sgt. Angelo Collazo, who works with the department's school resource officers.
"And you guys get a smile," the driver said in response, thanking the officers again.
The Bridgeport Police Department Office of Community Services has done similar events for years with Officer Nick Ortiz at the helm, Perez said. This year, the school resource officers, who are overseen by Capt. Roderick Porter, joined the effort.
"I'm very proud of my officers," Perez said. "Things like this — it brings us, the police and the community, together."
But this year's efforts didn't stop after Thursday. The officers spent Thursday through Saturday collecting food and monetary donations for an event being held Tuesday in partnership with Vazzy's Restaurant, Perez said.
Bridgeport police are hoping to get enough donations to give about 250 families all the fixings of a Thanksgiving meal, free of charge. The supplies for those meals will be handed out on Tuesday.
"We're going to turn the tide and take care of this community," Perez said.
McClatchy-Tribune News Service