Calif. police: Officers haven't stopped, cited people for stay-at-home orders
Fresno police officers have been enforcing social distancing but haven't issued fines or citations to individuals
---
Carmen George
The Fresno Bee
FRESNO, Calif. — Fresno authorities have the power to cite people violating social-distancing rules, but that hasn't happened so far.
A few days after Mayor Lee Brand announced an extension of the city's shelter-in-place order last week because of the coronavirus pandemic – including that police or code enforcement could be used to penalize residents and businesses violating the order – Fresno police put out a clarifying statement that officers aren't stopping people on the streets.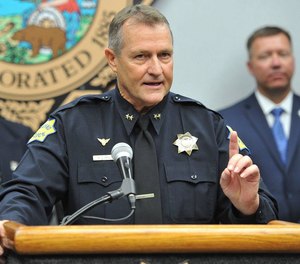 Police said there has been confusion about their enforcement role. Among those confused: A Fresno woman and children who this week were told to go inside via helicopter loudspeaker while out riding scooters. The woman learned from an emergency dispatcher that this was because there was a high-risk traffic stop near her home.
"The Fresno Police Department is not stopping people based on their mere presence in public," police officials stated. "There is no curfew set for adults in the city of Fresno and your Police Department will continue to observe the laws of the state as well as the articles of the constitution as it addresses the Fourth Amendment regarding search and seizure.
"An officer's inquiry as to where someone is coming from may be just simple conversation or part of a criminal investigation."
Fresno police and city leaders, as of Thursday, said no residents had been penalized in regard to the stay-at-home order.
City spokesman Mark Standriff said a handful of non-essential businesses have been fined.
"We're focused on getting voluntary compliance, not on fines and citations," Standriff said. "Thankfully, our residents have embraced our new stay-at-home spirit and it's going to help us keep our community healthy and safe."
Sgt. Jeff LaBlue said citations by police are "reserved for situations where all efforts have been exhausted."
"We have not issued any citations for social distancing or violating the park closures or any business violations," LaBlue said.
Fresno's updated shelter-in-place order states: "Failure to comply with any of the provisions of this ordinance constitutes an imminent threat, menace to public health and constitutes a public nuisance. Egregious or persistent violators are subject to penalties in accordance with state and local laws."
In other areas, including Kings County, leaders have recommended misdemeanor charges for stay-at-home order violators.
Fresno City Councilmember Luis Chavez previously proposed an ordinance to fine residents caught violating social distancing and other public-health measures during the coronavirus pandemic.
Fresno police officials said complaints related to stops by officers are taken seriously: "There have been no confirmed incidents where an officer has made an errant stop for the purposes of the shelter-in-place order."
McClatchy-Tribune News Service