Mich. police delivering essential items to elderly residents during pandemic
"There's elderly and shut-ins around here who are alone. Some don't have anything. If we can help, we're going to do that"
---
Dean Cousino
Monroe News
LUNA PIER, Mich. — Rosanne Metcalf of Luna Pier was so delighted to see Luna Pier Police Reserve Officers Keith Blosser and Kenneth Mentel as they delivered her prescription medicine and light bulbs to her Tuesday afternoon.
"I so appreciate this," said Metcalf who has no way to get to the stores. "Thank you so much for the light bulbs to, my light bulb was stolen from my front porch. How much do I owe you," said Metcalf.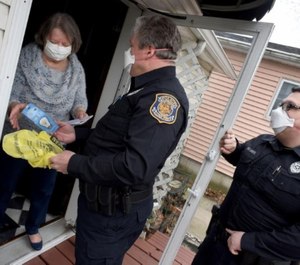 "Nothing," said the officers.
The Luna Pier Police Department is assisting the elderly, shut-ins and homebound individuals in the lakeshore community with acquiring essential items and grocery items for their use.
On Tuesday, the department began taking calls from senior citizens and those without transportation who may be lacking in essential items. Officers were offering to take grocery lists and make free trips to the Dollar General store at S. Dixie Hwy. (M-125) and Luna Pier Rd. in Erie for residents.
Luna Pier residents can call from 10 a.m. to 1 p.m. today to enlist the aid of an officer. Chief Brett Ansel said the service was announced on Facebook Monday and the first day of taking calls was Tuesday. There is a $25 limit on list of items needed.
"If there's someone out there that needs help, I'd like to help and do what we can," Ansel told The Monroe News Tuesday. "There's elderly and shut-ins around here who are alone. Some don't have anything. This is a tight-knit community and if we can help, we're going to do that."
He planned to contact senior residents at the Lotus Manor Apartment Complex off Ellen St. to see if they need anything from the store. He said some residents don't have the internet and may not know about the service.
On the first day of the service Tuesday, the department received several calls for help, including calls from the complex and one from an elderly woman who needed her medication from the Kroger store in Monroe, so an officer went there for her.
"It was an unusual circumstance," Ansel said. "She had no transportation and the meds were already prepaid. She didn't need groceries, but did need a couple of light bulbs for outside, so we got those, too."
The officers will wear rubber gloves and masks like those used at hospitals when they pick up the lists and deliver the staples and goods needed on the lists. They also will practice distancing themselves from the residents to avoid spreading any germs or bacteria, he said.
The department received a box of 50 double-layered masks from the Luna Pier Volunteer Fire Department and more masks from the Erie Township Volunteer Fire Department.
"We're hoping to get a supply of hand sanitizers and the N-95 masks that firefighters use from EMD (Monroe County Emergency Management Division)," he said. The masks offer a higher level of protection than the hospital masks.
The police department has 11 sworn officers on the force who will provide the service along with two volunteer members of the police reserve.
The community has about 1,500 residents and many of them are older Americans, he said.
"When I put it out on Facebook, we got a great response and support for it," he said.
The service is only for city residents and being tried this week as an experiment. If enough people take advantage of it, the service will be offered next week as well, the chief said.
McClatchy-Tribune News Service