On conquering COVID, the invisible suspect
How can we better prepare ourselves and our families?
---
If you visit the Officer Down Memorial Page you will see there is a new category for line-of-duty deaths: COVID-19. At the time of this writing, ODMP listed 196 officers as having died in the line of duty as a result of contracting COVID-19 in 2020, which is over four times the amount killed by gunfire.
The first documented police officer COVID death was on March 24, 2020. It is reported that hours before Detroit Police Department Captain Jonathan Parnell died, he was talking about going back to work. It is unknown how many other officers died as a result of COVID-19 because there is no documentation prior to March 2020, however, there are some trends worth noting:
The average age of all officers killed in the line of duty in 2020 was 49 years. The average age for COVID-related deaths was 54.
The youngest officer to die from COVID was 36 years of age, the oldest was 79.
 In Texas, a total of 69 officers were killed in the line of duty; 52 of those deaths were COVID-19 related.
Ten female officers succumbed to COVID-19 in the performance of their duty.
US federal agencies lost a total of 24 agents in 2020, with COVID-19 attributing to 21 of the 24 deaths.
While difficult to track, it is apparent that 46 of the officers who died from COVID worked in the detention or corrections capacity.
126 officers who died from COVID were 50 years of age or older.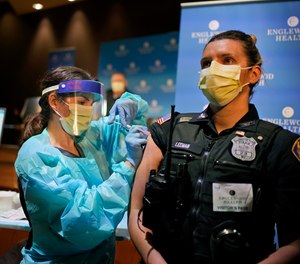 Demographics
There are a number of reasons why some law enforcement professionals remain in the profession well into their 60s: lifestyle choices, loss of healthcare and pension after retirement, and "retirement cop jobs" are a few reasons. Administrators with 30 years or more are typically exempt from the usual hazards such as assaults and roadway dangers, but not from COVID-19 and underlying health issue risks. What are these underlying issues exactly?
According to researchers, "An increasing body of data suggests that people with diabetes, high blood pressure, and severe obesity, with a BMI of more than 40, are more likely to develop severe illness and die from a SARS-CoV-2 infection."
Are people with diabetes really more likely to have serious complications from COVID-19? Apparently yes. Adult-onset diabetes affects the immune response making one more susceptible to infections and recovery from illness.
Of the total 196 officers who died from COVID-19, only 60 were Caucasian. The Center for Disease Control and Prevention (CDC) provides information that indicates how ethnicity might play a role in the death of some officers.
According to the American Diabetes Association, African Americans, Mexican Americans, American Indians and Asian Americans are some of the ethnic groups at a higher risk of developing Type 2 diabetes and the complications that come with diabetes such as limb amputations, retinopathy and kidney failure.
Steps to understanding your own risk
It is unknown if any of the fallen officers suffered from diabetes or heart disease and while not all of the fallen officers appeared to have suffered from the issue of "weight creep," it plagues law enforcement culture.
Officers self-report that they gain approximately one pound per year for every year of service. Do the math. What contributes to this weight gain? Stress, a sedentary lifestyle, failure to lose weight after childbirth, plainclothes assignments, fast food in a fast-food job, and injury and illness are just a few reasons.
While you cannot change your heredity, you can change the likelihood of contracting some diseases. Diabetes and obesity run in my family. I, however, chose to literally run away from it. My mother was diabetic and of Native American descent, which is the third-highest in the minority risk category listed in the aforementioned graph. She managed her diabetes with exemplary discipline for years. My brother, John, was not as fortunate. He lost both legs prior to passing at age 48. With increased discipline, John's outcome may have been different.
I am 55 years old and currently diabetes-free. I follow a healthy diet and participate in an exercise routine. My A1C averages between 5.2-5.4. My BMI is 21. My resting heart rate is 59 and my pulse oxygen rate is between 98%-99%. Why is pulse oxygen a concern of mine now? Because I was diagnosed with COVID-19 on November 27, 2020.
Upon receiving the diagnosis, I quickly reached out to a friend and colleague, Dr. Lorenzo Paladino, who is an emergency medicine physician in Brooklyn at SUNY Downstate Hospital. Lorenzo's work in caring for COVID-19 patients is well known in the healthcare community.
In his initial inquiry, he asked about "'my numbers" and if I had a pulse oximeter in order to check my heart rate and oxygen saturation stating, "Initial management is guided by these numbers."
He asked about shortness of breath while completing simple tasks and vitamin supplement intake. Lorenzo also asked about other symptoms, diabetes and other long-term conditions. I experienced a loss of appetite and loss of smell. I suffered severe low backache, headache, fatigue, and now have a lingering cough and an occasional feeling of brain fogginess. My partner, who is still active in the law enforcement profession, was diagnosed the same day and shared these symptoms plus more severe symptoms including chills, nausea and difficulty breathing. Some of these symptoms are lingering and commonly referred to as "long-hauler" symptoms, that is, lingering or delayed symptoms from COVID-19. My doctor friend advised these symptoms could last for up to seven months. Our symptoms were minor compared to some. My friend, and former lieutenant, spent six days in the hospital and just shy of ventilation therapy.
Prepare to conquer COVID now, plan for a healthy future
In a survey conducted by Police1, only 38% of officers surveyed said "yes" to vaccination. Why only 38%? In a profession where facts are prevalent perhaps some are concerned about a rush to market product and unknown side effects. If there are side effects, how might these side effects be addressed with Workers' Compensation? At this stage, the vaccine is not a condition of employment. So, how can we better prepare ourselves and our families?
Discuss and decide with your family members if, or when, you will take the COVID vaccine when it becomes available to you.
Consider what life after law enforcement has in store for you in terms of long-term health and wellness. If it doesn't include a weight management plan, it should. Do you own a digital scale and if so, do you weigh yourself at least once a month?
If diabetes runs in your family, have you invested in a glucose monitor or do you simply rely on an annual, sometimes mandated, physical and blood draw?
Remember, sometimes it's not that diabetes runs in the family, it's that no one in the family runs. Do you have the ability to perform some form of cardiovascular exercise for at least 20 minutes, 4-5 times a week?
The time to prepare your body for COVID is now! 
This article is dedicated to the men and women of law enforcement who selflessly gave their lives so that others can live a more healthy and peaceful life. Godspeed.