'Stop the Bleed:' Movement trains bystanders to help during emergencies
Dr. Eileen Bulger believes that bystanders need to be able to stop severe bleeding caused by acts of terrorism and other public violence
---
By Jonel Aleccia
The Seattle Times
SEATTLE — Dr. Eileen Bulger wants you to know that CPR is not enough.
With the way the world is going, the chief of trauma at Seattle's Harborview Medical Center believes that bystanders — ordinary citizens — also need to be able to stop severe bleeding, including the kind caused by acts of terrorism and other public violence.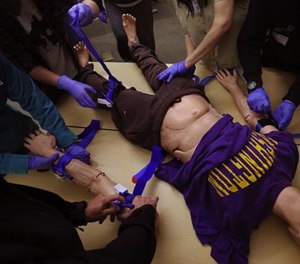 "It's a commentary on our times," Bulger said. "If you watch the news every day, you know that we have a lot of events in this country where a lot of people are injured."
Last year in the U.S. there were 372 incidents in which four or more people were killed or wounded, with a toll of 475 deaths and 1,870 injuries according to the nonprofit group Gun Violence Archive.
That's why Bulger spent Saturday in a hospital training room, where more than 100 people in two classes learned to use tourniquets and pack wounds as part of Stop the Bleed Washington, a local and national effort to prepare more people to respond to the shootings, bombings and other threats that have become a part of American life.
"Somebody can bleed to death in three to four minutes," Bulger said, adding that medical crews often can't respond that quickly. "There are circumstances where the person next to you is the best person to save your life."
In emergency situations, severe bleeding is a common cause of death for trauma patients, accounting for about 35 percent of mortality before victims get to a hospital, according to the National Trauma Institute.
A movement to train bystanders began after the 2012 shootings at Sandy Hook Elementary School in Newtown, Conn., resulting in the Hartford Consensus, a series of expert recommendations led by the American College of Surgeons. A White House summit in 2015 accelerated the momentum.
Just last month, an editorial in the journal JAMA Surgery urged development of more programs for bystanders to control severe bleeding.
Now, Bulger and others in communities across the country are taking the message to the public. After a pilot project with nontrauma employees at UW Medicine, more than 250 people have already signed up for the two- to three-hour classes.
"I just wanted to be prepared," said Nancy Sola-Llonch, 51, a geography instructor at South Seattle College, who attended Saturday's session. "I'm just concerned in general."
The classes are simple. Participants hear a short lecture about the benefits of bystander-bleeding training and watch a disturbing video produced by the Los Angeles Sheriff's Department that demonstrates how to survive a public shooting.
Then they learn the two most effective ways to stop severe bleeding: packing wounds and applying tourniquets.
"Honestly, I don't think there's a lot of training," Bulger said. "People have basic first-aid classes, but they don't learn this."
In small groups, the students practiced shoving rolls of gauze deep into simulated wounds and then applying the forceful, direct pressure necessary to halt the bleeding. Then they took turns applying tourniquets — and learning why the improvised types seen on TV won't stop blood flowing through both veins and arteries.
"The problem with a homemade tourniquet is you can't get it tight enough," Bulger said. "If you don't get it tight enough, what happens is you make the bleeding worse."
It's best to create a kit, similar to a first-aid kit, that contains a commercial tourniquet, available for about $30, she added.
In addition to the training, Bulger is also working to install bleeding control kits that contain gloves, gauze, tourniquets and other supplies in public places. Harborview has added them, right next to the AEDs, or automated external defibrillators. Bulger said she's talking with officials at the Seattle-Tacoma International Airport and the federal courthouse in Seattle about adding them, too.
The training and the kits are a good idea, said Heather Wilson, 42, of Seattle, a UW Medicine communications worker who was among the first to enroll in early August.
"I just thought it would be a good, interesting experience," she said. "There's so much happening in the world today, you just never know when you'll need this."
After taking the class, Wilson said she feels more confident that she'd know what to do if someone near her was bleeding severely.
"I hope I never have to use those skills, but if I am in such a situation, since I've had this training, I would feel obligated to help."
McClatchy-Tribune News Service