Thousands march through Boston week after Va. bloodshed
Thousands of leftist counterprotesters marched through Boston on Saturday, chanting anti-Nazi slogans and waving signs condemning white nationalism
---
By Steve LeBlanc
Associated Press
BOSTON — Thousands of leftist counterprotesters marched through downtown Boston on Saturday, chanting anti-Nazi slogans and waving signs condemning white nationalism as conservative activists appeared to cut short a rally one week after a Virginia demonstration turned deadly.
Police Commissioner William Evans said Friday that 500 officers — some in uniform, others undercover — were deployed to keep the two groups apart Saturday. Boston's Democratic mayor, Marty Walsh, and Massachusetts' Republican governor, Charlie Baker, both warned that extremist unrest wouldn't be tolerated in this city famed as the cradle of American liberty.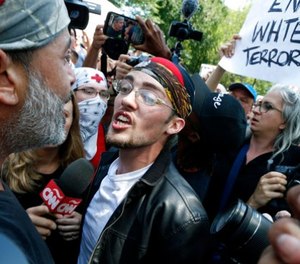 Organizers of the midday event, billed as a "Free Speech Rally," have publicly distanced themselves from the neo-Nazis, white supremacists and others who fomented violence in Charlottesville on Aug. 12. A woman was killed at that Unite the Right rally, and scores of others were injured, when a car plowed into counterdemonstrators.
Opponents feared that white nationalists might show up in Boston anyway, raising the specter of ugly confrontations in the first potentially large and racially charged gathering in a major U.S. city since Charlottesville. But only a few dozen conservatives turned out for the rally on historic Boston Common — in stark contrast to the estimated 15,000 counterprotesters — and the conservatives abruptly left early. It was unclear whether they were trying to relocate or had decided to abandon the event in the face of boisterous opposition.
Events are planned around the country, in cities including Atlanta, Dallas and New Orleans.
Walsh greeted counterprotesters Saturday morning outside Reggie Lewis Center in the city's Roxbury neighborhood. Counterprotesters from Black Lives Matter and other groups denouncing racism and anti-Semitism marching from there to the Common, and another group plans to rally on the steps of the Statehouse overlooking the sprawling park.
Some counterprotesters dressed entirely in black and wore bandannas over their faces. They chanted anti-Nazi and anti-fascism slogans, and waved signs that said: "Love your neighbor," ''Resist fascism" and "Hate never made U.S. great." Others carried a large banner that read: "SMASH WHITE SUPREMACY."
TV cameras showed a group of boisterous counterprotesters on the Common chasing a man with a Trump campaign banner and cap, shouting and swearing at him. But other counterprotesters intervened and helped the man safely over a fence into the area where the conservative rally was to be staged. Black-clad counterprotesters also grabbed an American flag out of an elderly woman's hands, and she stumbled and fell to the ground.
The permit issued for the rally on Boston Common came with severe restrictions, including a ban on backpacks, sticks and anything that could be used as a weapon. The permit is for 100 people, though an organizer has said he expected up to 1,000 people to attend.
The Boston Free Speech Coalition, which organized the event, said it has nothing to do with white nationalism or racism and its group is not affiliated with the Charlottesville rally organizers in any way.
"We are strictly about free speech," the group said on its Facebook page. "... we will not be offering our platform to racism or bigotry. We denounce the politics of supremacy and violence."
But the mayor pointed out that some of those invited to speak "spew hate." Kyle Chapman, who described himself on Facebook as a "proud American nationalist," said he will attend.
Black Lives Matter said Friday that members from around the U.S. planned to march Saturday in Boston.
Looks like many anti-police agitators in Boston. Police are looking tough and smart! Thank you.

— Donald J. Trump (@realDonaldTrump) August 19, 2017
Walsh said the city would do whatever is necessary to head off violence initiated by either side. "If anyone gets out of control — at all — it will be shut down," he said.
"We will not tolerate any misbehavior, violence or vandalism whatsoever," said Evans, Boston's top cop.
Dating to 1634, Boston Common is the nation's oldest city park. The leafy downtown park is popular with locals and tourists and has been the scene of numerous rallies and protests for centuries.