Police composite sketches & COVID-19
While the coronavirus pandemic has forced LE to alter the way it does business, technology is already enabling forensic artists to work remotely
---
By Michael W. Streed
While many people are sheltering in place due to COVID-19, there's no question that criminals are still finding ways to scam, rob and steal. Although crime is reportedly down across the board, violent crime remains prevalent and is likely to rise post-COVID-19.
As a Certified Forensic Artist with 40 years of experience, I have assisted law enforcement with investigations that have drawn international interest, along with many that barely made a whisper. For me, every case is important. The common denominator being the relationship I develop with my eyewitness and law enforcement investigators.
The ability to sit close to the eyewitness to provide strength and comfort is an element of the police composite sketch interview that helps lead to success. Equally important is the professional relationships I'm able to build with investigators.
Before COVID-19 we were all together in close quarters, often less than six feet apart. Tears were shed, handshakes were exchanged and sometimes eyewitnesses were so thankful that it wasn't uncommon to receive an occasional hug.
Today that's all changed. Social distancing, wearing masks, no physical contact and other stringent guidelines have made connecting with people on a personal level much more challenging. Coupled with police departments closing their lobbies to public access, it makes it even more difficult to schedule and complete a police composite sketch appointment with an eyewitness.
The benefits of online composite sketch technology
Five years before COVID-19 reared its ugly head, I started providing online police composite sketch interviews conducted remotely using online meeting software. Leveraging communication technology allowed me to quickly and easily connect with eyewitnesses, minus the physical presence. In a majority of these cases, I'm thousands of miles away.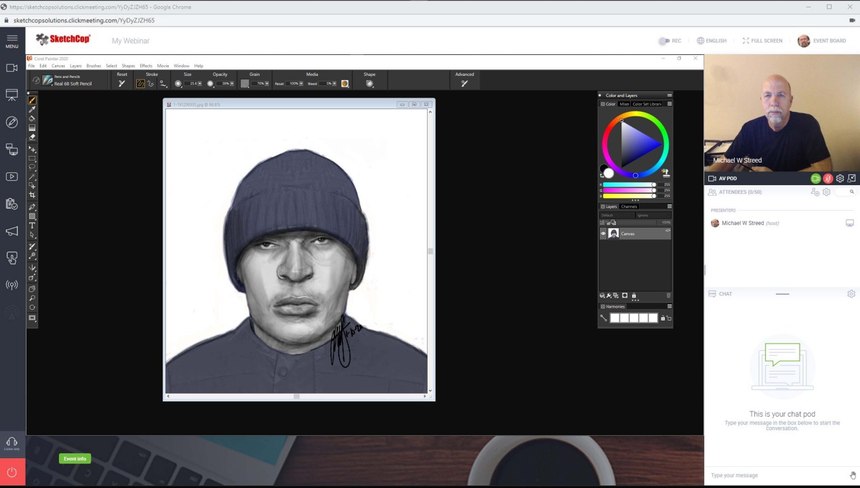 For years there's been the belief that the police sketch artist needs to be in the same room as an eyewitness to judge their veracity and gauge their emotion. But despite the distance, I'm able to create successful police composite sketches and provide the same services as if onsite.
Investigators embrace the concept because they can request a police composite sketch and conduct their investigations while they wait for me to make the appointment and later e-mail them the completed sketch, often on the same day.
Busy eyewitnesses enjoy the safety and convenience of logging into a remote police composite interview session from their smartphones. Or if they prefer, from the safety and comfort of their home or office.
In addition to providing law enforcement agencies with remote police composite sketches, I've been able to train police departments and students from around the globe without having to step foot in their country.
I have uploaded 3-D files and created skull models of homicide victims for facial reconstructions without compromising evidence. Age progressions, postmortem images, 1-to-1 facial comparisons and analysis, image enhancement, photo-lineups and any other forensic facial imaging can be done remotely simply by uploading and downloading files and photos.
Law enforcement's ability to adapt its behavior in a post-COVID-19 world will largely depend on the profession's openness to use technology in ways not yet imagined.
We know that COVID-19 will change the way we interact socially. How we move forward to effectively fight crime depends on how we use our imagination, including how far we allow ourselves to think outside the box or wander outside our comfort zones.
---
About the author 
Police Sergeant (ret.) Michael W. Streed is an award-winning, internationally recognized Forensic Facial Imaging Expert based in the Los Angeles-Baltimore/Washington DC metropolitan areas.
For the last four decades, Michael has combined his extensive law enforcement experience and considerable art skills to provide forensic facial imaging services to some of the largest police agencies in the United States, including the Baltimore and Los Angeles Police Departments. To learn more visit https://www.SketchCop.com, or contact him at Michael@SketchCop.com.