Chicago DEA chief heading to DC
Jack Riley, 56, has been named the DEA's new chief of operations — considered the federal agency's No. 3 position
---
By Michael Tarm
Associated Press
CHICAGO — The head of the Drug Enforcement Administration's Chicago division, who has drawn attention to the growing influence of Mexican cartels in the American heartland, is leaving to take one of the agency's top posts in Washington, D.C., a DEA official said Tuesday.
Jack Riley, 56, has been named the DEA's new chief of operations — considered the federal agency's No. 3 position — and will oversee all agency enforcement activities within the U.S. and internationally, Rusty Payne, a spokesman with the DEA in Washington, told The Associated Press.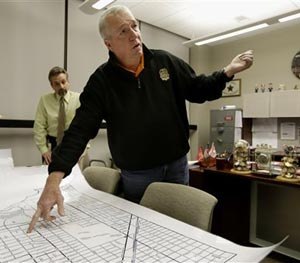 In an interview at his office Tuesday, Riley said the two biggest changes in the trafficking landscape since he came to Chicago in 2010 have been the entrenchment of Mexico's cartels in the Midwest and the resurgence of heroin, including in suburban neighborhoods.
Heroin has become more popular, in part, because it's now available in easier-to-use powder form and can be snorted rather than having to be injected with needles, he explained.
"People who never would have done heroin are doing it today," Riley said.
As the special agent in charge in Chicago, Riley has directed DEA operations in Illinois, Indiana, Wisconsin, Minnesota and North Dakota. His previous posts included head of the agency's El Paso, Texas, office.
In recent years, Riley highlighted how Mexican cartel operatives had pushed deep inside the U.S., including Chicago, which has become a hub through which the syndicates distribute drugs farther afield.
"They've cemented themselves," Riley said.
Riley also backed the creation of a Chicago Strike Force headquarters, which opened last year. At the new facility, federal agents, police and prosecutors work together year-round, often targeting the point of contact between cartel-backed traffickers and local gangs who serve as street-level salesmen.
In 2013, Riley joined the non-governmental Chicago Crime Commission in naming Sinaloa cartel boss Joaquin "El Chapo" Guzman, as the city's new Public Enemy No. 1 — the same label once assigned to gangster Al Capone.
Mexican authorities captured Guzman earlier this year; they haven't indicated whether he might be extradited to face trial in Chicago or another American city.
Riley is expected to begin his new job next month. His replacement in Chicago has not been named.
Copyright 2014 The Associated Press