Drug lord sentenced in murder of DEA agent
The official sentencing comes 32 years after DEA Agent Enrique Camarena was brazenly snatched in broad daylight
---
By Patrick J. McDonnell
Los Angeles Times
MEXICO CITY — He was known as "El Padrino" — the Godfather — and, as co-founder of the once-dominant Guadalajara drug cartel, Miguel Angel Felix Gallardo reigned over Mexico's multibillion-dollar narco-commerce with all the ruthlessness and aplomb of the fictional Don Corleone.
The former street cop and bodyguard turned-drug kingpin counted police commanders and politicians among his protectors and supplicants.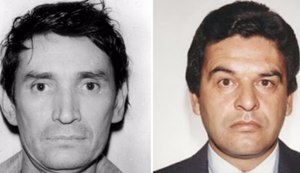 But eventually, Gallardo went too far. The international outrage following the 1985 murder in Mexico of a U.S. Drug Enforcement Administration agent, Enrique "Kiki" Camarena, eventually led to the fall of Gallardo and his close associates and the splintering of their nationwide criminal network.
The fallout of Camarena's murder — and the unraveling of Gallardo's cartel — continues to be felt in Mexico to this day, influencing law enforcement, politics and how modern cartels operate. Even though Gallardo was arrested decades ago, the case made the news again this week when a Mexican federal court sentenced Gallardo to 37 years in prison for the murder of Camarena and a Mexican pilot, Alfredo Zavala.
As part of Wednesday's court decision, Gallardo also was ordered to make the equivalent of $1.18 million in reparation payments, presumably to the families of the victims.
Gallardo, now in his early 70s, has been in Mexican custody since 1989, when intense pressure from U.S. authorities led Mexican authorities to arrest him.
But the kingpin's case had dragged on for decades in Mexican tribunals amid a plethora of legal maneuvers and a court ruling throwing out a previous 40-year sentence against Gallardo. It is said to be one of the longest judicial proceedings in Mexican criminal history. Several more years of appeals are possible, authorities say, even though Gallardo has already served the bulk of his term.
The official sentencing comes 32 years after Camarena — the DEA agent and former Calexico cop and U.S. Marine — was brazenly snatched in broad daylight in Guadalajara. Camarena was kidnapped while walking along a street to meet his wife for lunch. Zavala, who was assisting Camarena in his undercover investigations, also disappeared.
The Camarena case, which has inspired films, books and television series, put the public spotlight on the organized and brutal nature of Mexican drug-trafficking rings. The intense law enforcement focus ultimately contributed to altering the makeup of the drug gangs, but did not come close to putting an end to the illegal cross-border commerce.
In a sense, the takedown of the Guadalajara cartel set a template for the Mexican drug wars that have raged to this day — often with much more bloodshed and brutality than in the heyday of Gallardo and his henchmen.
After Camarena disappeared, an irate Reagan administration pressed the Mexican government to find him. U.S. customs officials all but shut down the nearly 2,000-mile-long border, triggering a binational crisis.
It was a low point in U.S.-Mexico relations perhaps unmatched until President Trump took office in January amid threats to build a border wall, slap a tariff on Mexican imports and carry out large-scale deportations of Mexican citizens in the U.S. illegally.
The bodies of Camarena and Zavala were found, a month after their February 1985 disappearances, near a ranch in the western state of Michoacan. Their remains showed signs of torture.
The subsequent manhunt for the killers was called the largest in DEA history. Suspicion immediately fell on the Guadalajara cartel and its three principal figures: Gallardo, Ernesto "Don Neto" Fonseca and Rafael Caro Quintero, all giants of the Mexican demimonde, subjects of corridos (ballads) and legends.
In his undercover work, Camarena had developed an extensive informant network that led to large-scale seizures of marijuana and destruction of pot plantations in northern Mexico, authorities say. His murder was called payback for the damage done to the Guadalajara mob.
Mexican authorities soon rounded up Fonseca and Caro Quintero, but Gallardo — reportedly protected by authorities — was not arrested until 1989.
Though Gallardo remains in prison, Fonseca was transferred to house arrest in 2016 under terms granted to elderly prisoners with health problems.
Caro Quintero was released from prison in 2013 on a legal technicality, to the dismay of U.S. authorities — who have offered a reward of up to $5 million for information leading to his capture or conviction. Both Mexican and U.S. officials are seeking Caro Quintero.
In 2016, Caro Quintero gave an interview from hiding to Mexico's Proceso magazine denying any role in Camarena's murder and rejecting reports that he had returned to the drug world.
Amid continuing demand for drugs in the United States, experts say, the destruction of the Guadalajara cartel resulted in a fragmenting of the market and the emergence of distinct regional cartels.
Among them was the Sinaloa cartel of Joaquin "El Chapo" Guzman and other criminal mobs in Tijuana, Ciudad Juarez and elsewhere. All built on the sophistication of the Guadalajara cartel, with its close ties to South American cocaine producers. The evolving U.S. appetite for heroin, amphetamines and other illicit substances has been a boost for the trafficking enterprise.
Under pressure from U.S. authorities, Mexican officials have taken down one drug lord after another. Critics question, however, whether the "kingpin strategy" has exacerbated the problem, amid escalating national homicide rates. Violent junior sicarios, or hit men, and other would-be successors now regularly battle for leadership after the incarceration or murders of their bosses.
The arrest of Guzman, and his extradition this year from Mexico to the United States, is a case in point. His absence and the subsequent leadership void have spurred violent clashes among competing blocs fighting for control of Guzman's fractured empire.
Mexican drug gangs since the 1980s have diversified into other fields — including extortion, kidnapping, human trafficking and the forced takeover of legitimate businesses.
Like their predecessors in the Guadalajara cartel, Mexico's current narco-leaders maintain financial and social ties to police and elected lawmakers. The nexus among gangs, law enforcement and politicians — and the resulting impunity for many criminals and corrupt officials — continues to bedevil reform efforts in Mexico.
For U.S. anti-drug authorities, a key lesson of the Camarena killing was the need for an immediate and robust response to any menace to its personnel.
"Because of the Camarena case, even the mere allegation of a threat is the tripwire that unleashes DEA's fury," Jay Bergman, former regional director of the DEA's Andean office, told the Los Angeles Times in 2015. "The message is loud and clear: Just thinking about harming an agent will turn your world upside down."
Cecilia Sanchez in The Times' Mexico City bureau and special correspondent Chris Kraul in Bogota, Colombia, contributed to this report.
———
©2017 the Los Angeles Times
McClatchy-Tribune News Service