Mass. cops allow addicts to turn in drugs if they seek treatment
Unique policy was launched Monday in the Massachusetts city of Gloucester
---
By Philip Marcelo 
Associated Press
BOSTON — Heroin users seeking help for their addiction won't be arrested if they turn over their drugs and needles to police under a unique policy launched Monday in the Massachusetts city of Gloucester.
Drug addicts — including those abusing morphine, oxycodone and other opioids — will instead be taken by an officer to the local hospital emergency room where they'll be connected with substance abuse clinicians and, eventually, be referred to a treatment facility.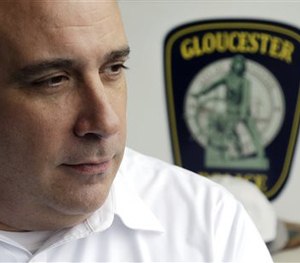 Gloucester Police Chief Leonard Campanello says the program is about trying to change police strategies in the face of a nationwide drug abuse epidemic that's hit Massachusetts and other New England states especially hard.
"It's a conversation changer. That's where we're going with this," he said Monday. "For police officers, it's hard to give up a fight and think of another strategy, but we've made a conscious decision to do that because we did not see our supply-side war on drugs having an effect. This is getting at it from a different angle."
Massachusetts has declared opioid addiction a public health emergency, with policy makers proposing a range of ways to combat the scourge.
Campanello says a citywide spike in drug overdoses this year prompted police to take the unusual step of developing the new police policy.
Gloucester, a historic fishing city north of Boston that's now a popular tourist destination, has already matched last year's total of four drug overdose-related deaths and dozens more people have been treated for drug overdoses, he said.
Daniel Raymond, policy director at the Harm Reduction Coalition, a New York-based group that advocates on drug-related policies, says the effort is unique in the country.
"What the police chief has done is cut right through the stigma and address people not as potential criminals but as people with problems," he said. "I hope that other police departments see what Gloucester is doing and follow their lead."
But Essex County District Attorney Jonathan Blodgett has warned the department it may lack the legal authority to promise addicts they won't be charged with a crime. That authority, he suggests, rests with judges and prosecutors.
"While we applaud the general idea of your proposal, an explicit promise not to charge a person who unlawfully possesses drugs may amount to a charging promise that you lack legal authority to make, and on which a drug offender may not be able to rely," he said in a letter to Campanello in late May.
The police chief says the department is on solid legal footing: the mayor's office has vetted and supports the initiative.
Gloucester, like other police departments, also conducts gun buyback and prescription drug disposal days throughout the year, he notes.
And Massachusetts, like other states, has a so-called "Good Samaritan" law that prevents people from being arrested if they are seeking medical help for themselves or another person suffering from an overdose.
"This is not unprecedented," Campanello said. "It's ludicrous to think otherwise."
Gloucester's policy, which the chief says is in effect indefinitely, also gives officers the discretion to refer addicts they encounter in the streets or in the community to the new ANGEL program rather than charge them with a crime. However, those with outstanding arrest warrants and certain individuals with three or more drug-related arrests are ineligible.
As of Monday afternoon, Campanello reported no one had yet come to the police station to turn over drugs and seek treatment.
"All you can do is extend the hand of trust and say this is how far we are willing to go," he said. "We can't force people to come to the police station. But we want them to know that this can be a safe haven for them."
Copyright 2015 The Associated Press