Naloxone recalled due to particulate matter
The voluntary recall was prompted by the potential for "loose particulate matter on the syringe plunger," which could result in a range of adverse effects
---
By Police1 Staff
SILVER SPRING, Md. — The U.S. Food and Drug Administration announced that Hospira has recalled its opioid overdose antidote.
The FDA said on Monday that the Naloxone recall was prompted by the potential for "loose particulate matter on the syringe plunger," which could result in a range of adverse effects.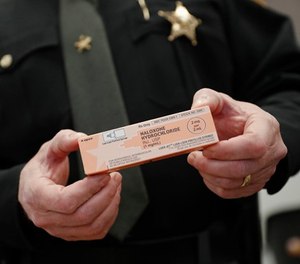 "In the event that impacted product is administered to a patient, the patient has a low likelihood of experiencing adverse events ranging from local irritation, allergic reactions, phlebitis, end-organ granuloma, tissue ischemia, pulmonary emboli, pulmonary dysfunction, pulmonary infarction, and toxicity," the FDA said.
The FDA added that there hasn't been any reports of instances of adverse effects. The FDA recommends that anyone who does experience a related adverse event should report it.
The recall impacts single units with lot numbers 72680LL and 76510LL in 0.4 mg/ml, 1 mL in, and 2.5 mL strengths. Those units were sent to wholesalers, distributors and hospitals in the US, Puerto Rico and Guam from February 2017 to February 2018.