Police seize $1B of cocaine from ship
The seizure is being described as one of the largest drug busts in U.S. history
---
By Jeremy Roebuck
The Philadelphia Inquirer
PHILADELPHIA — Federal authorities on Tuesday seized more than 16 tons of cocaine from a cargo ship docked at the Port of Philadelphia — a massive haul whose estimated worth of more than $1 billion made it one of the largest cocaine busts in the nation's history.
Two members of the ship's crew, including its second mate, were charged with violations of federal maritime drug trafficking laws. According to court filings, both men confessed to helping haul dozens of bales of cocaine aboard from at least 14 smaller boats that approached the vessel while plying waters to and from Peru.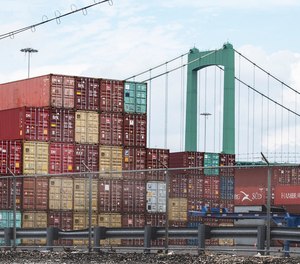 The investigation appeared to be far from over. Investigators from at least six city, state and federal agencies — including U.S. Customs and Border Protection and Homeland Security Investigations — continued to scour the ship Tuesday night, while authorities said others could be charged in the coming days.
"This is one of the largest seizures in United States history," U.S. Attorney William M. McSwain said in a tweet. "This amount of cocaine could kill millions — MILLIONS — of people."
It was unclear Tuesday when investigators discovered the drugs aboard the MSC Gayane, which according to shipping records docked around 5 a.m. Monday in the port's Packer Avenue Marine Terminal, near the Walt Whitman Bridge. It had arrived after a monthslong journey with stops in Peru, Colombia, Panama and the Bahamas.
A port employee who was not authorized to discuss the matter said investigators boarded the ship with drug-sniffing dogs sometime before 7 p.m. Monday and eventually discovered the cocaine, hidden in bags and housed among legitimate cargo in seven shipping containers bound for the U.S. and Europe.
Coast Guard officials swabbed members of the crew for cocaine residue and found it on the hands and arms of the second mate, Ivan Durasevic, according to his arrest affidavit.
Durasevic told investigators that he had been recruited by the ship's chief officer, who was unnamed in the document, to help at least two other crew members and four people wearing ski masks haul bales of cocaine aboard the Gayane from smaller ships that approached it shortly after it left Peru. He was paid $50,000 for his effort, he said.
The second crew member charged Tuesday, Fonofaavae Tiasaga, blamed Durasevic for recruiting him into the smuggling effort. He told investigators that the second mate had paid him 50,000 euro to clandestinely load cocaine on one of the ship's previous trips, according to his arrest affidavit.
On the Gayane's current voyage, Tiasaga said, he was approached by Durasevic as well as the chief mate, an electrician, and an engineer — all of whom independently sought his aid in sneaking separate loads of cocaine aboard.
He described six boats, each carrying cocaine, that rendezvoused at different times with the Gayane under cover of darkness as it voyaged south from Panama to Peru. On the way back north, eight boats approached the cargo ship at night to unload their illicit cargo, the affidavit states.
Durasevic and Tiasaga remained in custody Tuesday night after appearing in federal court in Philadelphia during the afternoon. Detention hearings for both men are scheduled for later this week.
The Gayane will remain moored in Philadelphia until given the all-clear by investigators. The cargo vessel is owned by Mediterranean Shipping Co., a Geneva-based firm with operations in several U.S. cities.
In a statement posted on its website Tuesday, the company said it was taking the seizure "very seriously."
"Unfortunately, shipping and logistics companies are from time to time affected by trafficking problems," it read. "MSC has a longstanding history of cooperating with U.S. federal law enforcement agencies to help disrupt illegal narcotics trafficking."
Tuesday's seizure breaks a record set just three months ago, when customs agents reported another unprecedented cocaine seizure — 1,815 pounds worth an estimated $38 million and the largest in the Philadelphia port's history — on a cargo ship carrying natural rubber from Guatemala and bound for the Netherlands. No arrests have been reported in that case.
The Philadelphia busts come amid a series of large cocaine seizures across the Northeast. New York saw its largest in a quarter-century in March with $77 million worth of the drug seized from a cargo ship in the Port of New York and New Jersey.
In fiscal year 2018, agents seized an average of 4,657 pounds of narcotics per day, U.S. Customs and Border Protection reported on its website.
A report issued last year by the Drug Enforcement Administration said that cocaine's "availability and use in the United States continued to rise between 2016 and 2017," and that customs agents seized more cocaine in 2017 than any year since at least 2010.
———
©2019 The Philadelphia Inquirer
McClatchy-Tribune News Service