15 must-read books for law enforcement
Police1 readers recommend these 15 books for entertainment or professional development.
---
By Megan Wells, Police1 Contributor 
Recently, Police1 asked readers to recommend some of the best law enforcement-related books they've read, and they shared plenty of interesting titles. 
Whether you're shopping for a holiday gift for your LEO or just looking to pick up a new read, check out this list of LEO-recommended books.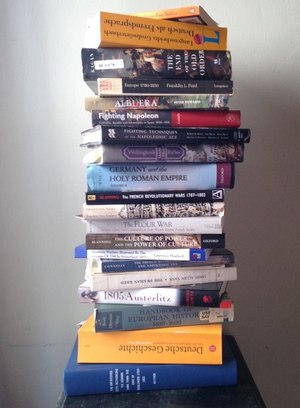 1. Law Enforcement Families: The Ultimate Backup by James T. Reese, PhD, FBI Special Agent Retired and Cherie Castellano 
Law enforcement officers undertake complex and stressful endeavors, and LEO families are often unequipped to deal with the repercussions of this stress. This book sheds light on the relationship between LEOs and their families. The goal is to garner an appreciation for what each person is going through and learn how to embrace mutual support. 
2. Cadet Blues by Rob Krider 
Cadet Blues details author Rob Krider's misadventures while attending the California Highway Patrol Academy. This hilarious book is all too real, and it's a great read for anyone thinking about attending a law enforcement academy or someone who is nostalgic about their academy days.
3. Men in Blue (Badge Of Honor) by W.E.B. Griffin
In Men in Blue, the first book of a 12-book series, get a glimpse of what's behind the badge with the main characters as they deal with a shocking event: the killing of a cop in the line of duty.
4. On Combat: The Psychology and Physiology of Deadly Conflict in War and Peace: 2nd (second) Edition by Dave Grossman 
What type of training does it take to head into a situation from which others will flee? On Combat takes a look at the evolution of combat and the development of the physical and psychological leverage that enables humans to kill other humans. 
The author also takes a look at what happens to the human body under the stresses of deadly battle and discusses new research that describes measures warriors can take to prevent debilitation so they can stay in the fight, survive and win. 
5. Busting Bad Guys: My True Crime Stories of Bookies, Drug Dealers and Ladies of the Night by Mark Langan
Sergeant Mark Langan details his 26-year career as a narcotics officer on the Omaha, Nebraska, police force. From starting his career as the youngest rookie in 1978 to becoming a highly decorated sergeant, Langan had a front-row seat for the steamy, drug-laden side of crime. 
6. COP: A True Story by Michael Middleton 
In this brutally honest portrait, Sergeant Michael Middleton, a retired veteran of the LAPD, tells the gripping tale of his two decades on some of America's meanest streets.
7. Stalling for Time: My Life as an FBI Hostage Negotiator by Gary Noesner
Noesner, a specially trained non-violent confrontation and communication technique hostage negotiator, has seen plenty of action throughout his career. Noesner's unit successfully defused many potentially volatile standoffs, and he takes readers on a heart-pounding tour through some of the most intense hostage crises of the past 30 years.
8. Performance Thinking: Mental Skills for the Competitive World...and for Life! by Jacques Dallaire 
This book addresses two basic but profoundly important questions: "How do I mentally sabotage my own performance?" and "How can I control my thinking in order to optimize my performance?"
Learn a simple but powerful framework of mental rules that you can use to understand clearly how your thoughts influence your performance. 
9. Birmingham's First Black in Blue by Leroy Stover 
This first-person memoir traces the often difficult path of Leroy Stover, the first black law enforcement officer in Birmingham, Alabama. You will shake your head in disbelief as you read about the treatment Stover received during his first days and weeks on the force. 
You also will learn what a huge difference a police officer can make in a community. This book is especially important as we continue to strive toward becoming a truly equitable society. Birmingham's First Black in Blue makes a vital contribution to this discussion as an authentic and fascinating first-person history.
10. Rising Through the Ranks: Leadership Tools and Techniques for Law Enforcement by Michael Wynn 
Effective leadership is a journey, not a destination. Rising Through the Ranks, written by a former DEA agent and police chief, details real stories of leadership and courage from police departments and investigative agencies. The goal of this book is to help inform potential leaders, from local police officers to federal agents, about useful tools and techniques for strong leadership. 
11. All the Centurions: A New York City Cop Remembers His Years on the Street, 1961-1981 by Robert Leuci
Leuci takes us into the world of the New York City Police Department at a time when the city was crumbling under its own weight, drugs were taking over sensitive neighborhoods, and crime was rampant on the streets and subways. 
This is a story of shattered illusions, endurance, healing – and most importantly, growth. Leuci describes his evolution from a naive rookie to a seasoned detective who believes that the only people he can trust are his fellow cops – until he learns even that might not be true. 
12. The Gift of Fear: And Other Survival Signals That Protect Us from Violence by Gavin de Becker
In this empowering book, Gavin de Becker shows you how to spot subtle signs of danger before it's too late. The book describes specific ways to protect yourself and those you love in a variety of situations, regardless of how non-threatening they may seem. Learn to spot the danger signals others miss. It might just save your life.
13. The Choirboys by Joseph Wambaugh
In this novel, the Los Angeles Police Department night shift officers have a nightly routine. They call the end-of-shift get-togethers "choir practice," or, which almost always involves heavy drinking, complaints about superior officers and sharing war stories. Each of the officers is disillusioned and uses cynicism as a shield, with the feeling that many of the people they're paid to protect are not unlike the suspects they arrest. 
14. Terror at Beslan: A Russian Tragedy with Lessons for America's Schools by John Giduck
This novel is a historic recounting of the Beslan School Siege that occurred in Russia on September 1, 2004. The book details untold stories about the victims, the soldiers who were there and the events that led up to the tragic incident. This book also highlights the lessons America's school system can learn from the tragedy and what school leaders can do to protect themselves and their students from terrorism.
15. Newhall Shooting - A Tactical Analysis: An inside look at the most tragic and influential police gunfight of the modern era. (Concealed Carry Series) by Michael E. Wood
As the son of a California Highway Patrolman who was a peer of the slain officers in the famed 1970 Newhall shooting, Michael E. Wood grew up hearing about the event and its influence on CHP and the law enforcement community. This experience led Wood to be a lifelong researcher of the event. This book may be the most thoroughly researched and documented account of the shooting to date. 
What books did we miss? Tell us in the comments below and we'll continue to grow our list of must-read books for law enforcement.