Chief: Explosion at Ore. legal office an attack on law enforcement
The FBI said it was too early to say whether the blast in Jackson County, which injured no one, was terror-related
---
By Jeff Barnard
Associated Press
MEDFORD, Ore. — An explosive device that police say was designed to destroy an Oregon county prosecutor's office instead blew out windows in a pre-dawn blast Wednesday that did little other damage and caused no injuries.
The FBI said it was too early to say whether the blast in Jackson County was terror-related, but Medford Police Chief Tim George said he considered the explosion a domestic terror attack aimed at law enforcement.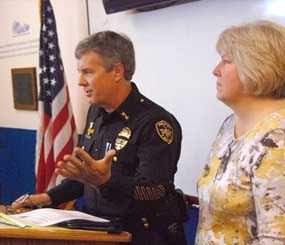 '"I think it is domestic terrorism, absolutely," George said. "Any time part of the justice system is singled out in this type of event, this type of device and intent, absolutely."
Greg Fowler, special agent in charge of the FBI in Oregon, said in a statement that the explosive device clearly targeted a government facility.
"An attack on such a visible symbol of government and justice demands our singular focus," he said.
The device, fashioned in part from a 5-gallon propane tank, failed to fully detonate, authorities said.
About 25 federal investigators from the FBI and Bureau of Alcohol, Tobacco, Firearms and Explosives in Seattle and Portland were joining the effort to gather evidence about the explosive device, George said.
"The most important thing in these cases, as we've seen over the years, is the methodical collection of evidence," he said. "I would bet the house on it, we are going to clear this case."
George said there were no suspects and no indications of the motive or message from the person who set the device.
"There's nothing meaty now in what we are chasing," he said.
After the explosion, a silver-colored propane tank, similar to those used for camping, was found dented on its side in front of the broken windows at the prosecutor's office.
Two windows near the entrance were broken out of the one-story brick building across a quiet neighborhood street from the jail and courthouse. Yellow crime scene tape surrounded the building and evidence markers dotted the parking lot.
"The bomb squad on scene said had it detonated, there would have been devastation at the scene and the building would have been destroyed." said Medford police spokesman Lt. Mike Budreau. "We believe there was something else attached to (the propane tank) that was intended to blow it up, but was not successful."
No one was inside the building when the blast hit around 4:30 a.m.
When investigators arrived, the tank was burning, and it continued to burn until the propane ran out, police said.
Budreau said police were searching for a man who ran from an officer several blocks away, but it was unclear if he had anything to do with the explosion.
While the district attorney's office regularly gets threats from people, none stand out as potentially related, District Attorney Beth Heckert said.
Police withheld details of the explosive device, such as how it was detonated and what kind of explosive was used.
Police went house to house warning people to stay indoors and cleared a large area around the office out of fears there might be other explosive devices, but tightened the closed area after none was found.
The district attorney's office was closed, with a skeleton crew working at another site, Heckert said. The courthouse reopened in the afternoon, and grand jury proceedings in unrelated cases were to resume Thursday.
George said authorities were making a point of not allowing the explosion to disrupt their regular duties.
Copyright 2013 The Associated Press