Chicago leaders blast plan to bring in ICE agents
The response has marked an escalation of the conflict between 'sanctuary' cities and federal law enforcement
---
Elvia Malagón
Chicago Tribune
CHICAGO — Chicago politicians and immigrant advocates vowed to push back against plans by the Trump administration to deploy tactical units from the southern border to strengthen immigration enforcement in Chicago and other so-called sanctuary cities.
U.S. Rep. Congressman Jesus "Chuy" Garcia contended the timing of the initiative was intended to "instill fear" in immigrants.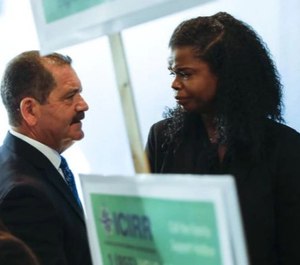 "The timing is no accident," Garcia said at a press conference Tuesday. "The attempted intimidation has a clear purpose: It is to intimidate our neighbors not to open their doors. Trump succeeds if we do that."
Both the new enforcement tactic and the response by local officials marked an escalation of the long-running conflict between the Trump administration and leaders of big cities like Chicago, where state and local laws prohibit police from arresting people only on the basis of their immigration status and where police will not assist with federal immigration enforcement efforts.
"We will not be bullied, period, especially by a bully like President Trump who trades in hatred and scare tactics," Mayor Lori Lightfoot said in a video she released following news last week about the new enforcement effort. "To all our neighbors and friends I want you to know that Chicago stands with you and will always fight to keep you safe. We are a welcoming city and proud of it and no amount of vitriol will make us think otherwise."
U.S. Customs and Border Protection officials told the New York Times last week that the agency will divert 100 officers to assist Immigration and Customs Enforcement agents in cities around the country "in order to enhance the integrity of the immigration system, protect public safety, and strengthen our national security."
Federal officials have also said that sanctuary city laws create a greater risk of collateral arrests of those not being targeted by an enforcement effort, and that the lack of cooperation by local authorities hurts public safety because immigrants without legal residency who are arrested for other crimes are released into the community rather than help for potential deportation.
Garcia said Tuesday that he had not heard of any sightings of the specialized units in cities like Chicago.
McClatchy-Tribune News Service