Nev. rancher's kin take ranch battle to sheriff
Family members and other supporters took a Nevada rancher's grazing rights fight against the U.S. government to the sheriff in Las Vegas on Friday
---
By Ken Ritter
Associated Press
LAS VEGAS — Family members and other supporters took a Nevada rancher's grazing rights fight against the U.S. government to the sheriff in Las Vegas on Friday, filing reports alleging crimes by federal agents against people protesting a roundup of cattle from public land.
Rancher Cliven Bundy wasn't among those who filed handwritten complaints with the Las Vegas Metropolitan Police Department — the agency with jurisdiction over Bundy's ranch in the Bunkerville area and much of Clark County.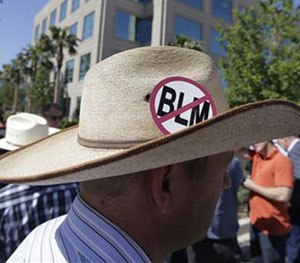 Sheriff Douglas Gillespie issued a statement saying the complaints would be investigated and the results shared with the Clark County district attorney and U.S. attorney for Nevada.
"We will then provide a response to the citizens who filed complaints as to the course of action taken," the statement said.
In encampments around the Bundy ranch, self-described militia members from around the country continue to camp with handguns on their hips and heavier weaponry within reach in a show of support for Bundy.
But no weapons were seen Friday among those who responded to his call for supporters and witnesses of a tense April 12 standoff beneath an Interstate 15 overpass — and lesser confrontations in preceding days — to file complaints against U.S. Bureau of Land Management police.
Ammon Bundy of Phoenix headed a delegation of three Bundy sons, two sisters and perhaps 15 other supporters who filed reports accusing Bureau of Land Management agents of wielding high-powered weapons, using attack dogs and stun guns, closing public lands, blocking roads, harassing photographers and threatening people.
Police said the Bundy family members were joined by about 40 other people. Twenty-two filed what the department called voluntary statements alleging acts such as impersonating a police officer, assault, threats, aiming a firearm, blocking road access and intimidation.
"We fervently hope and pray that these heavy-handed tactics will not be used on us or any other Americans ever again," Ammon Bundy said as he read a three-page media statement at the door of police headquarters.
"Will our sheriff keep his oath this time and use his lawful forces to stop them?" Bundy asked. "Or will the people be left to their own protection?"
Ammon Bundy said Cliven Bundy didn't join supporters Friday in Las Vegas because he previously filed a complaint asking Gillespie to investigate.
Gillespie didn't immediately respond to questions about Ammon Bundy's comments.
Bureau of Land Management officials have accused Cliven Bundy of failing to pay grazing fees for 20 years, racking up more than $1.1 million in fees and penalties, and failing to abide by court orders to remove his cattle from vast open range that is habitat for the endangered desert tortoise.
The agency responded to the filing of police reports with a wry statement.
"We welcome Mr. Bundy's new interest in the American legal system," spokesman Craig Leff wrote.
Openly carrying a pistol or rifle is legal in Nevada, and permit holders can carry concealed weapons.
Ammon Bundy credited armed guardians with coming to the aid of his family when the sheriff in Las Vegas would not. He also worried that armed federal agents who pulled out after the standoff nearly three weeks ago will return to Bunkerville.
"Will they come back with greater force and more cunning tactics than before?" he asked.
Hundreds of people and law enforcement officers were involved in the April 12 incident. Las Vegas police officers massed nearby but remained on the sidelines while department brass negotiated a truce between Cliven Bundy and the BLM.
Well-armed bureau police and a group of roundup contractors faced off against protesters backed by a picket line of militia members on the overpass displaying handguns, AR-15 and AK-47 and other military-style arms.
"It was the most frightening thing in my life, to have federal agents of my government pointing guns at me," said John Lauricella, 44, a Las Vegas resident who backs Bundy and said he was in the potential crossfire.
"I was walking right in the front," he said. "They said, 'Keep walking and we're going to shoot you.'"
Lauricella said he filed a police report Friday accusing federal agents of violating his civil rights.
In the end, the BLM released about 350 Bundy cattle that had been rounded up during the previous week then left the area near Mesquite, 80 miles northeast of Las Vegas.
"We believe that the BLM men who pointed guns at over 1,000 people ... committed a criminal act and that the Clark County sheriff's office should be required to investigate," Cliven Bundy and his wife, Carol, said in an overnight email asking supporters to file police reports.
Democratic U.S. Rep. Steven Horsford, who lives in Las Vegas and represents Bunkerville and Mesquite, has also called for federal authorities and Gillespie to investigate the gun-toting force that Horsford said was frightening for residents.
After the standoff, Senate Democratic Majority Leader Harry Reid of Nevada branded Bundy supporters who pointed weapons at federal agents "domestic terrorists." Nevada Republican U.S. Senator Dean Heller called them patriots.
Copyright 2014 The Associated Press