Suspect caught in drive-by slaying of Ill. boy
---
By Cheryl Wittenauer
The Associated Press
O'FALLON, Mo. — Authorities arrested a suspect Thursday in the death of a 12-year-old Illinois boy who investigators said was shot in his home as he did schoolwork.
Prosecutors charged Marcus Powell with first-degree murder in the drive-by shooting death of Delarrian Davis. Authorities said he had a longstanding feud with a man who lived in the home with Delarrian.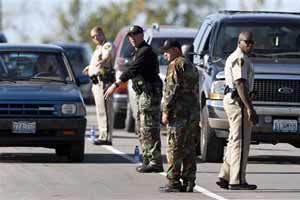 Police work at a checkpoint on in O'Fallon, Mo., as they search for a man suspected in the drive-by slaying of a 12-year-old boy who died while doing school work in his home. After a manhunt lasting several hours, Marcus Powell, 27, was found and taken into custody. (AP Photo/Jeff Roberson)
Capt. Brad Wells with the Madison County, Ill., Sheriff's Department said Delarrian was minding his own business when he was killed early Tuesday at his home in Madison, just across the Mississippi River from St. Louis.
Investigators found pencils and notebook paper near his body, indicating he was working on homework. A neighbor said she saw a man drive up in a car in front the house, turn off the headlights and fire several shots into the home.
Authorities said they believe Powell, 27, intended to hit Kevin Campbell, who was living with Delarrian's mother. Wells said there was a "street feud" between the two, but he didn't elaborate.
In the hours before Delarrian was killed, Powell and Campbell traded gunfire outside a tavern not far from the boy's home, said Stephanee Smith, a spokeswoman for the Madison County prosecutor's office.
Campbell, 27, was charged with armed violence and related counts. A third man, Cortez Davis, 25, was charged with aggravated discharge of a firearm.
In neighboring St. Clair County, Powell was awaiting trial on charges that he tried to kill Delarrian's mother in April 2007, the Belleville (Ill.) News-Democrat reported Thursday. She and another woman were shot and wounded. Powell was free on bond in that case.
Powell had eluded authorities after Tuesday's shooting until he surfaced Thursday morning in Missouri. They received a tip that he was in Wentzville, west of St. Louis. That led to a chase on Interstate 70, which ended when Powell dumped his vehicle in O'Fallon and tried to get away on foot.
He was found in a shed at a mobile home park, said resident Bruce Koelling, who saw the capture. He said a police dog and dozens of officers were involved, and it appeared Powell surrendered peacefully. Several schools nearby either closed for the day or were placed on lockdown during the manhunt.
Associated Press writer Jim Suhr in St. Louis contributed to this story.
Copyright 2008 The Associated Press