Chicago cops warned about possible gang pact targeting LEOs
The alert from FBI officials in Chicago alleges certain gang members may be targeting police who draw their weapons
---
By Suzie Ziegler 
An alert from FBI officials is warning Chicago-area law enforcement of a "pact" made by local gangs to "shoot on-sight any cop that has a weapon drawn on any subject in public." 
The "situational information report" dated August 26, obtained by ABC 7, said the pact was formed by three dozen street gangs.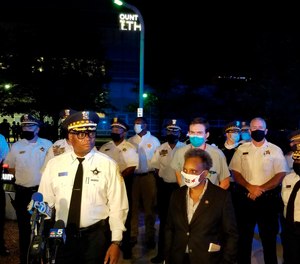 According to ABC 7's investigative team, the report from FBI officials in Chicago states "members of these gang factions have been actively searching for, and filming, police officers in performance of their official duties. The purpose of which is to catch on film an officer drawing his/her weapon on any subject and the subsequent 'shoot on-sight' of said officer, in order to garner national media attention." 
The alert is from "a contact whose reporting is limited and whose reliability cannot be determined," FBI officials wrote in the report. According to ABC 7, this means the information came from a police street source, a cooperating witness in an ongoing case, or from discussions overheard through surveillance. 
Chicago Police Department Superintendent David Brown, although not commenting directly on the alert, told ABC 7 on Monday that the danger to police officers is real and increasing. 
"I think it's bigger than a suggestion," Brown said. "I think 51 officers being shot at or shot in one year, I think that quadruples any previous year in Chicago's history. So I think it's more than a suggestion that people are seeking to do harm to cops." 
A pair of Chicago officers were shot over the weekend and are expected to survive. There isn't any indication that they were victims of the alleged gang assassination plot, according to ABC 7. 
Chicago Police told ABC7 in a statement that it is aware of the gang threat and that they take seriously all threats against officer safety.