State, local LEOs ask Ga. lawmakers to fight epidemic of gang-related crime
Sheriffs and investigators told legislators that gangs are the most pressing challenge they face statewide
---
Joshua Sharpe
The Atlanta Journal-Constitution
ATLANTA, Ga. — Georgia Bureau of Investigation Director Vic Reynolds went to the state Capitol on Monday to tell lawmakers about Georgia's gang problem. First, he wanted to tell them a story.
In 2012, when Reynolds was district attorney in Cobb County, a police officer pulled over a man he suspected had been involved in a drug deal. Unprovoked, the driver, a member of the Ghostface Gangsters, shot Officer Charles Vill five times. After hitting the ground, Vill tried to shoot back at the man, only to realize no bullets were coming out of his service weapon because the driver had shot off his trigger finger.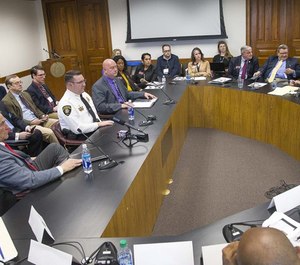 The case opened Reynolds' eyes to the gang issues Cobb faced, but he said he had great trouble convincing residents that the county had a problem. This was a fitting story to open with, considering that Reynolds is asking the Legislature to continue supporting efforts by Gov. Brian Kemp's administration to combat gangs.
In Kemp's budget proposal, the governor is asking legislators to approve spending nearly $2 million for seven new positions on the GBI's Gang Task Force and resources to set up the statewide gang database.
The GBI also has legislative requests this year. The agency is hoping lawmakers will consider granting the agency "original jurisdiction" in gang violence cases, which would allow the GBI to run investigations without an invitation from local law enforcement. Agency brass have also said they want the law to allow more juveniles to be tried as adults in cases involving gang activity, though it isn't yet clear if that will come up this session.
Speaking to about two dozen lawmakers from the House and Senate, Reynolds said local law enforcement agencies all over the state have told the GBI that gangs are the most pressing challenge they face — "from North Georgia to South Georgia, from east Georgia to west Georgia."
The director acknowledged it's difficult to say how many gang members there are in Georgia. But he cited a 2018 study by the Georgia Gang Investigators Association, which estimated the state had 71,000 gang members and 1,500 gangs. He also said federal data on gangs showed in 2011 that, nationally, gang membership had been on the rise since 2005.
Some critics of the Kemp administration's focus on gangs have questioned whether Georgia is indeed in the throes of a gang "crisis." Reynolds nodded toward the criticism by pointing out that state legislators has previously said in legislation that the gang issue is a "crisis."
"I will tell you this without any equivocation, this is the major issue facing law enforcement today," Reynolds said.
But he added: "It'd be foolish for me to tell you, you can arrest your way out of any epidemic. You can't do it. It has to be a joint effort," including churches, schools and community organizations to help sway young people from joining gangs.
Reynolds touted how far the GBI has come in its anti-gang push since he took the helm of the agency in January 2019. Every GBI agent who works in the field has been trained on gangs. The Gang Task Force has arrested gang members involved in drug pushing, human trafficking and killing. The GBI has been working to become a resource for any prosecutor or law enforcement agency in Georgia that needs help in a gang case.
State Sen. Valencia Seay, D-Riverdale, asked Reynolds if the GBI was engaging schools, which she called recruiting grounds for gangs. Reynolds said that was a good idea to consider as the anti-gang push evolves.
Other officials who spoke to the lawmakers echoed Reynolds' sentiment that gangs are a scourge across the state.
Baldwin County Sheriff Bill Massee said the nature of gangs is changing, with different groups often consolidating.
"They don't allow competition," Massee said. "You need to get in or get out."
Forysth County Sheriff Ron Freeman told the lawmakers even his largely affluent county isn't immune.
"I have a number of Ghostface gang members currently sitting in my jail," Freeman said. He said gang members from the Atlanta area often travel to Forsyth to rob and pillage. Time and again, he's frustrated because the reach of gangs nowadays is wide, sometimes sending his deputies out of state to investigate things that went on in Forsyth.
Rep. Bill Hitchens, R-Rincon, and Sen. John Albers, R-Roswell, who chair the House and Senate public safety committees, respectively, pledged continued support of the anti-gang efforts.
McClatchy-Tribune News Service