Nonprofit introduces first responders to the healing power of fly-fishing
Tight Blue Lines aims to provide a brief 'vacation from reality'
---
Society places incredible demands on law enforcement officers, firefighters, medics and other first responders. Over time, these demands add up, leading to stress that can affect family, friends, co-workers and job performance. When a critical incident is piled on top of day-to-day demands, the weight of that stress can feel overwhelming.
Thankfully, there are resources available to help first responders alleviate some of these stresses. One terrific resource is Tight Blue Lines, a group of law enforcement officers who strive to give back to other first responders through fly-fishing. The founders of Tight Blue Lines took their love of fly-fishing, combined it with their passion to help others, and turned it into an experience they wanted to share with first responders.
"Standing in a body of water, surrounded by breath-taking landscape, hanging out with someone who shares similar experiences, hunting for wild fish, somehow makes everyday stress fade away," Tight Blue Lines co-founder and President Jeff Frickey said. "Even if no fish are brought to net, it always seems to be an amazing experience. We wanted to bring these adventures to other first responders."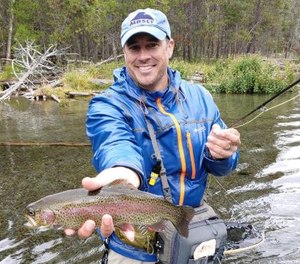 Frickey was joined in this goal by other police officers who have experienced the therapeutic effect of fly-fishing. Frickey and the other cofounders, Russ Skelton, Josh Spano and Matt Baldwin, are veteran police officers who have experienced the stress of working as first responders. They started Tight Blue Lines to give first responders who have been involved in a traumatic event a brief "vacation from reality" by taking them fly-fishing in some world-class locations around central Oregon.
There to listen
Most of Tight Blue Lines' staff and volunteers have peer-assistance training, but they do not operate trips on the river as counseling sessions. They won't ask invasive questions, but they are there to listen if someone wants to talk about their experiences without judgement or preconceived opinions.
"First responders go through a range of emotions following a traumatic event," Frickey said. "We want to help them step away from that stress, stop thinking about the job or what they have been through. The jobs first responders do create stress that we often don't deal with in a healthy manner. We want to help them recover from trauma and live a healthy life. They have chosen a selfless profession, and we want to help them see it through to live their life for themselves and their loved ones."
No experience necessary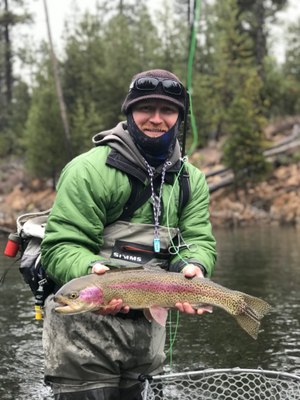 One of the best things about Tight Blue Lines is that participants don't need fly-fishing experience or their own gear. All skill levels are invited to participate. Tight Blue Lines is a 501c3 nonprofit, and all funding comes from donations and grants. Tight Blue Lines partners with a central Oregon fly shop to provide high-quality gear free of charge and help clients get situated with angling licenses and whatever else they need.
For now, trips with Tight Blue Lines are only available in Oregon, with most focused on the world-class fly-fishing found in central Oregon. Those locations include the Deschutes River, Fall River, Crooked River and Metolius River. Some locations may include the use of drift boats or jet boats to access hundreds of fishing opportunities in small streams or whitewater rivers. Depending on the client, excursions can include hikes around the high-mountain lakes of the Oregon Cascade Mountains or in the towering rock formations found in the high desert, and trips are offered year-round.
Any police officer, firefighter, paramedic, emergency room doctor or nurse is eligible to take advantage of Tight Blue Lines' free service. The focus is on the first responder, but families are welcome at the request of the client. As Frickey said, "If you're unsure whether you qualify, you probably do."
Tight Blue Lines can be contacted through its Instagram page at www.instagram.com/tightbluelines or by emailing co-founder and President Jeff Frickey at tightbluelines@gmail.com.
Samantha O'Connor with Central Oregon Daily News reports on the program here: