Minn. bill would require LEOs to get treatment before retiring early due to PTSD
Officers who apply for disability retirement benefits due to a psychological condition would have to complete up to 32 weeks of mental health treatment
---
By Sarah Calams
Police1
MINNEAPOLIS — Lawmakers in Minnesota are considering a bill that would curb the amount of law enforcement officers retiring early due to PTSD.
As it's written now, HF1234 would require police officers and firefighters who apply for disability retirement benefits due to a psychological condition to complete up to 32 weeks of mental health treatment. The treatment, according to the Minnesota Reformer, would be reimbursed and the state public safety department would assess whether a responder is able to return to their job. The bill also outlines that police and fire agencies must provide annual wellness training, as well as an employee assistance or peer support program.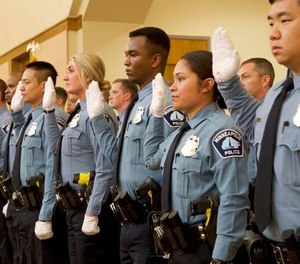 Statistics show that about 80% of disability retirement claims made by police officers refer to a PTSD diagnosis, according to the report. Currently, responders who retire early due to disability get at least 60% of their salary for five years or until age 55. After one of the two qualifiers are met, responders then receive their usual retirement funds.
"As these applications increase, cities are finding themselves in a position that is really difficult to sustain in terms of continuing to provide those benefits while also replacing that public safety employee," Bradley Peterson, executive director of the Coalition of Greater Minnesota Cities, said.
Another bill – HF610 – would provide a $1 million grant to Heroes Helping Heroes, a nonprofit founded by Chris Steward, a Minneapolis police sergeant who retired after he was diagnosed with PTSD in 2020. The funds would help first responders struggling with their mental health get treatment.
DOWNLOAD: Smash the stigma: Building a culture that supports officer wellness